Since South West Water's "temporary usage ban" has been extended across the River Tamar to much of North and West Devon we're extending our coverage of the drought too.

This week's Environment Agency rainfall summary hasn't been published yet, but I can assure you that the weather's been warm and dry. Here's a distant picture I took of our local Crowdy Reservoir on Sunday 21st May :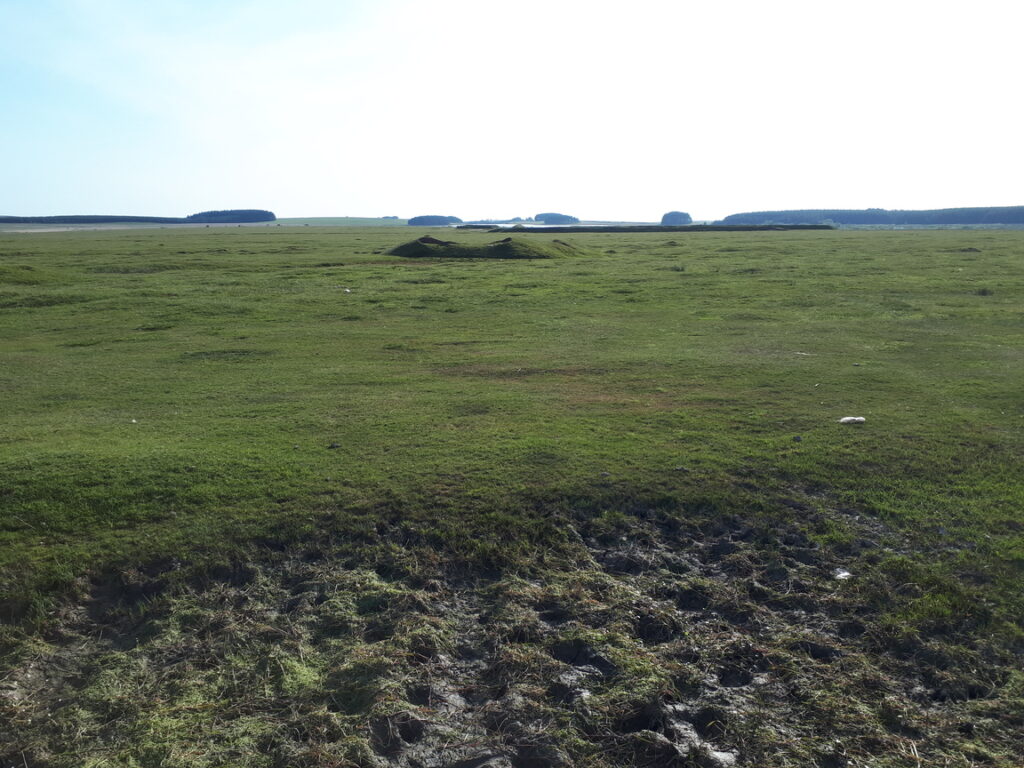 Davidstow Moor has dried out, and the water level in the reservoir has started to decline. Here's the South West Lakes Trust's report of water levels in Cornwall on the 21st. It also includes Roadford Lake, the largest reservoir in Devon: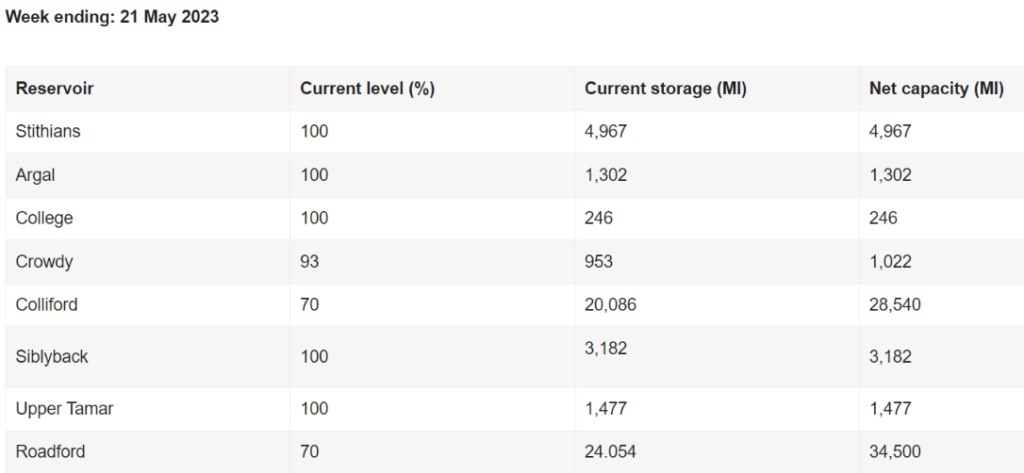 The automated rainfall gauge at Colliford also confirms the recent dry spell:

The rain gauge at Roadford tells an almost identical story:

South West Water have just published their weekly reservoir water level graphs. The level in Colliford Lake is still increasing, but is struggling to get above 70% of total net capacity: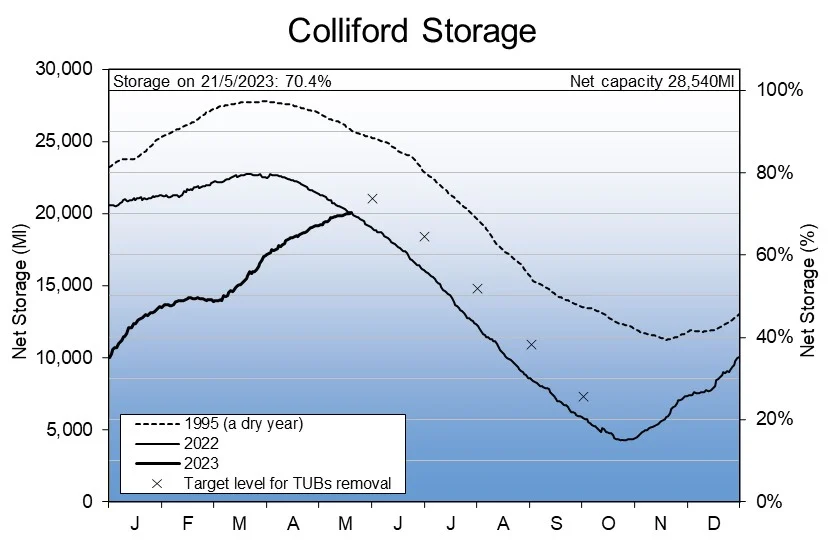 As you can see, it has now reached the same level as last year at the same time of year. However there is still a long way to go before the long running "hosepipe ban" is lifted. I assume that Colliford is still being topped up from one or more adjacent ex clay pits. Here's the pipe from Park Pit, pictured in early March: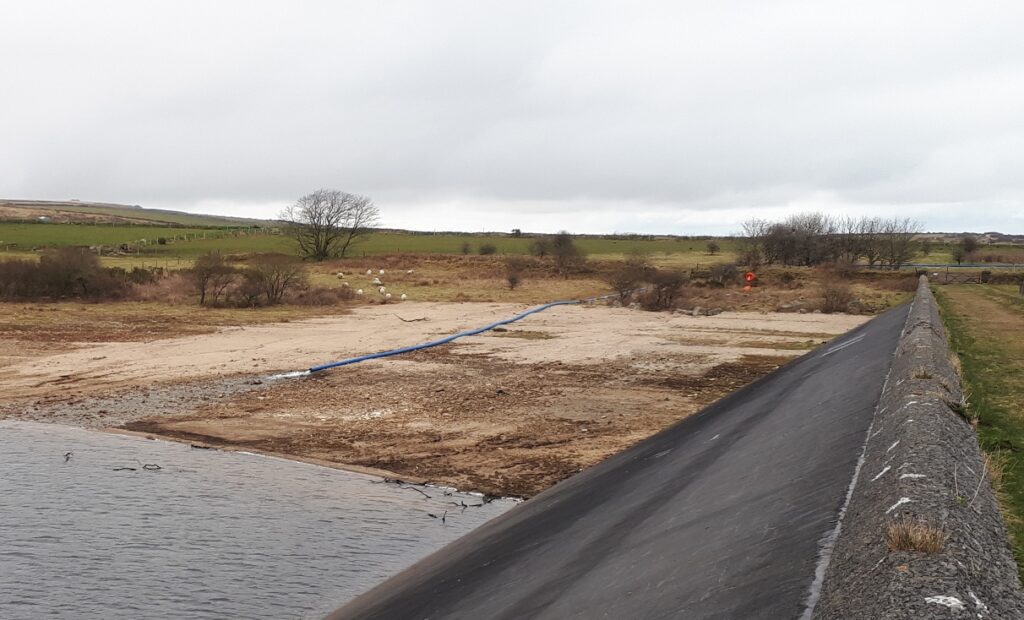 Over the border in Devon Roadford Lake is also struggling to reach 70% of capacity, and the water level declined slightly last week: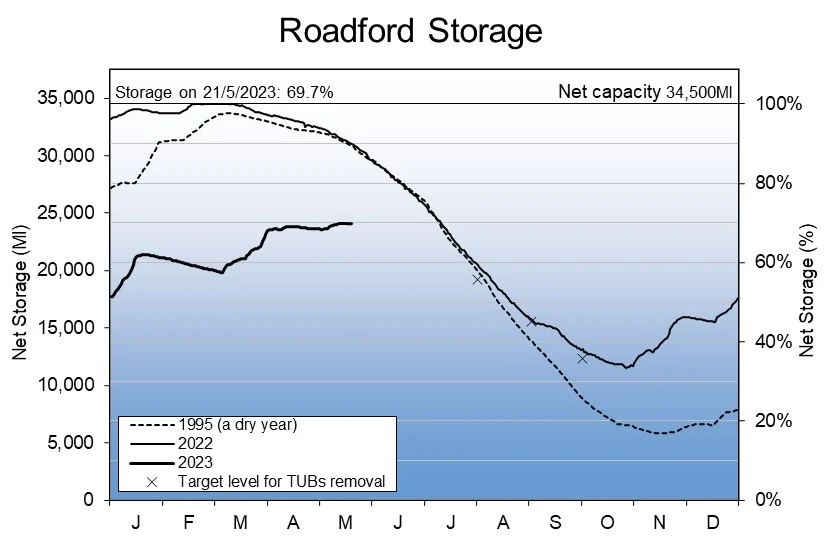 There's a very long way to go before this year's curve reaches last year's! The water levels in the second largest reservoirs in the two counties have also now started to decrease: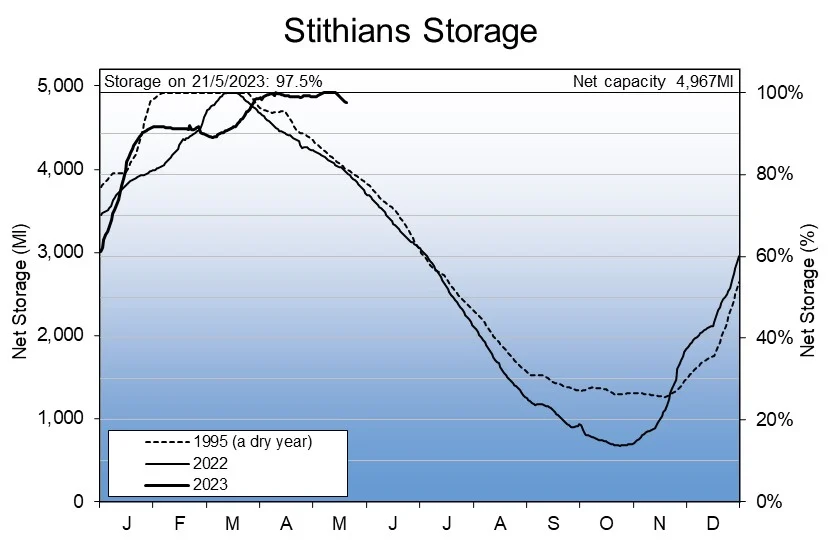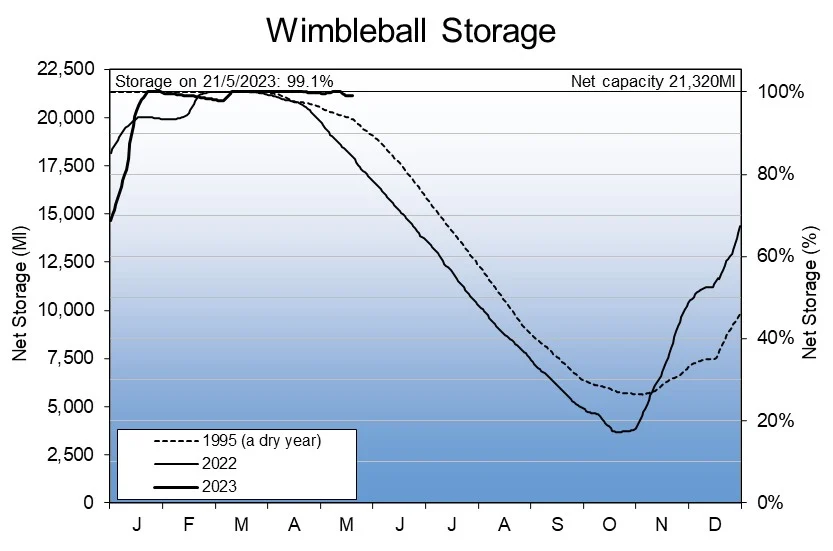 P.S. The Environment Agency's rainfall and river flow summary for the week ending May 23rd has now been published. It comes as no surprise to discover that it states:
It has been a drier week across the country compared to last week and the driest since February. Rainfall totals ranged from less than 1mm in central and east England to 3mm in south-west England. Rainfall totals for May so far range from 46% of the long term average (LTA) in north-west England to 97% of the LTA in south-west England.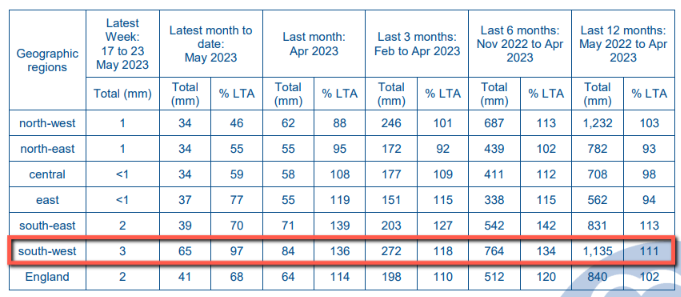 [Edit – June 2nd]
Following the recent warm weather the water level in the largest reservoirs in Cornwall and Devon is now reducing. Here's South West Water's graph of the water level in Colliford Reservoir: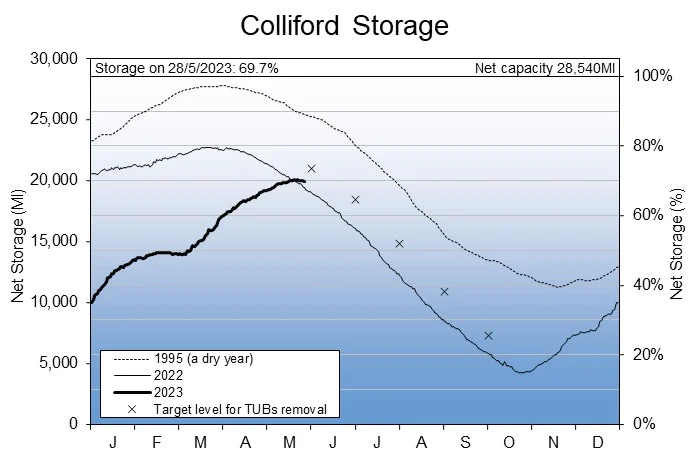 Over on the Devon side of the River Tamar the equivalent graph for Roadford Lake looks like this: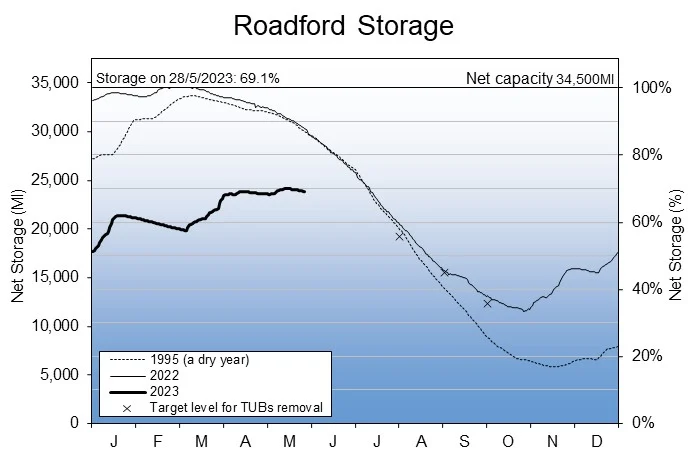 We visited Roadford yesterday to record how things looked near what is almost certainly the maximum water level for 2023. Here is what we discovered: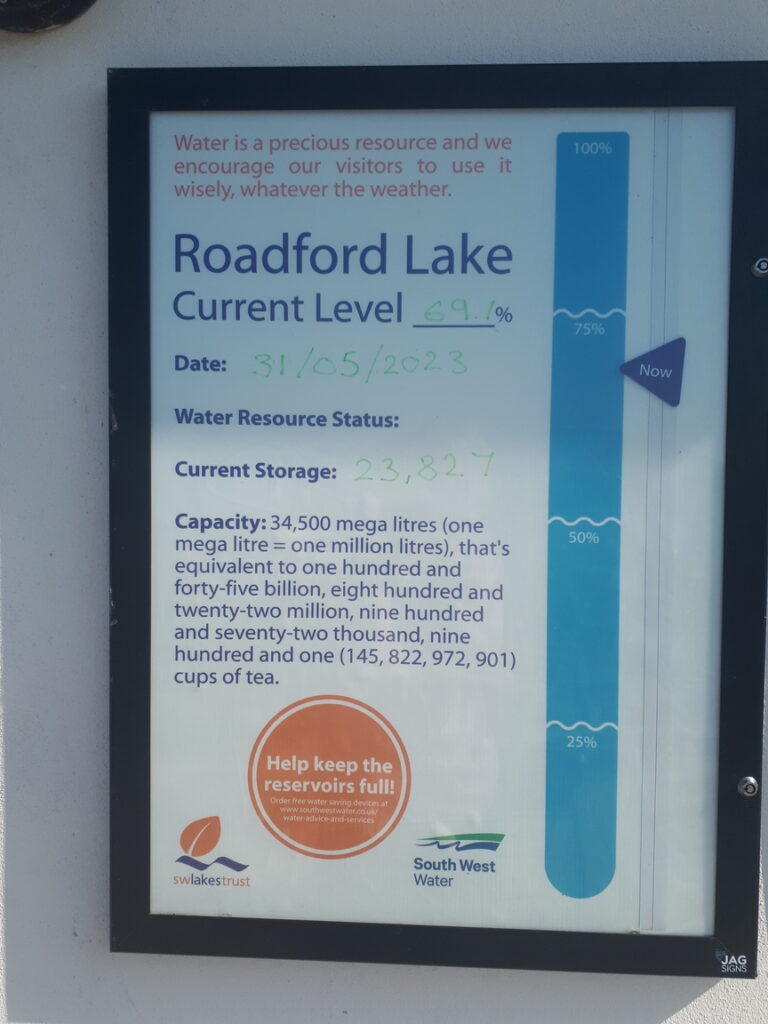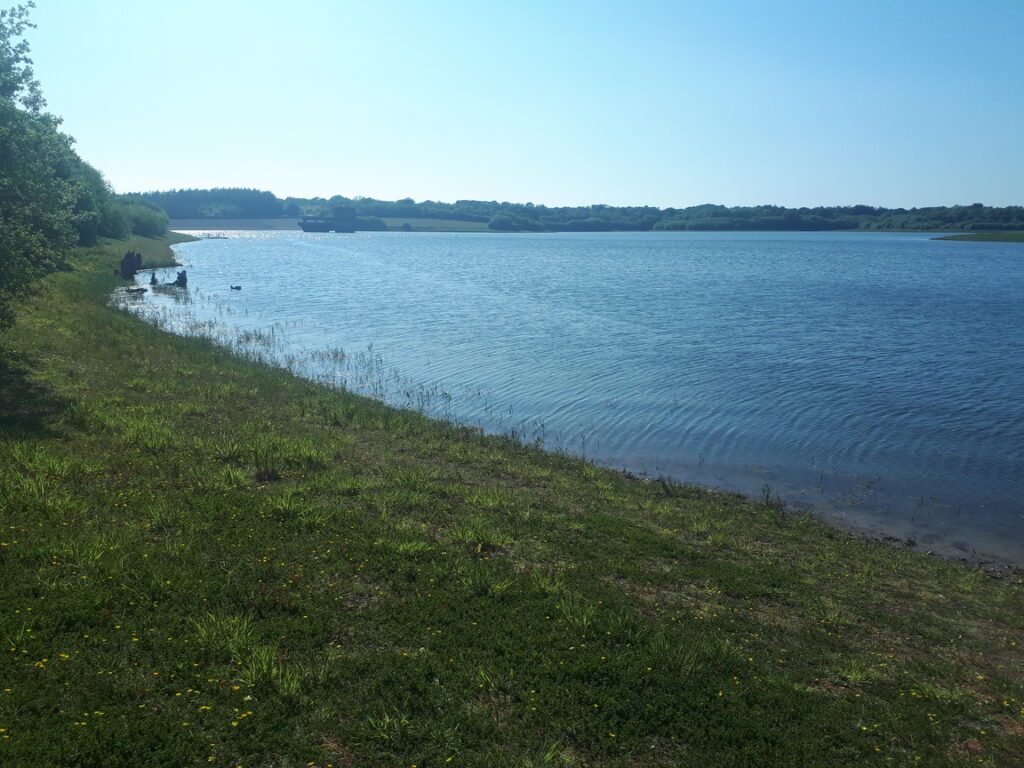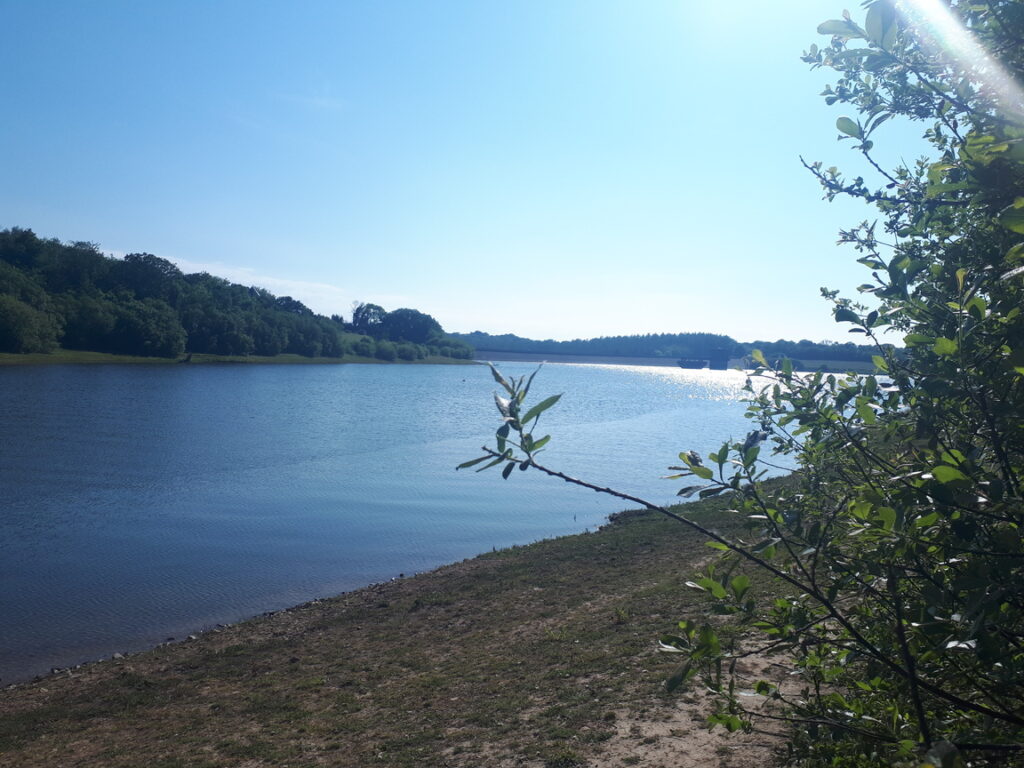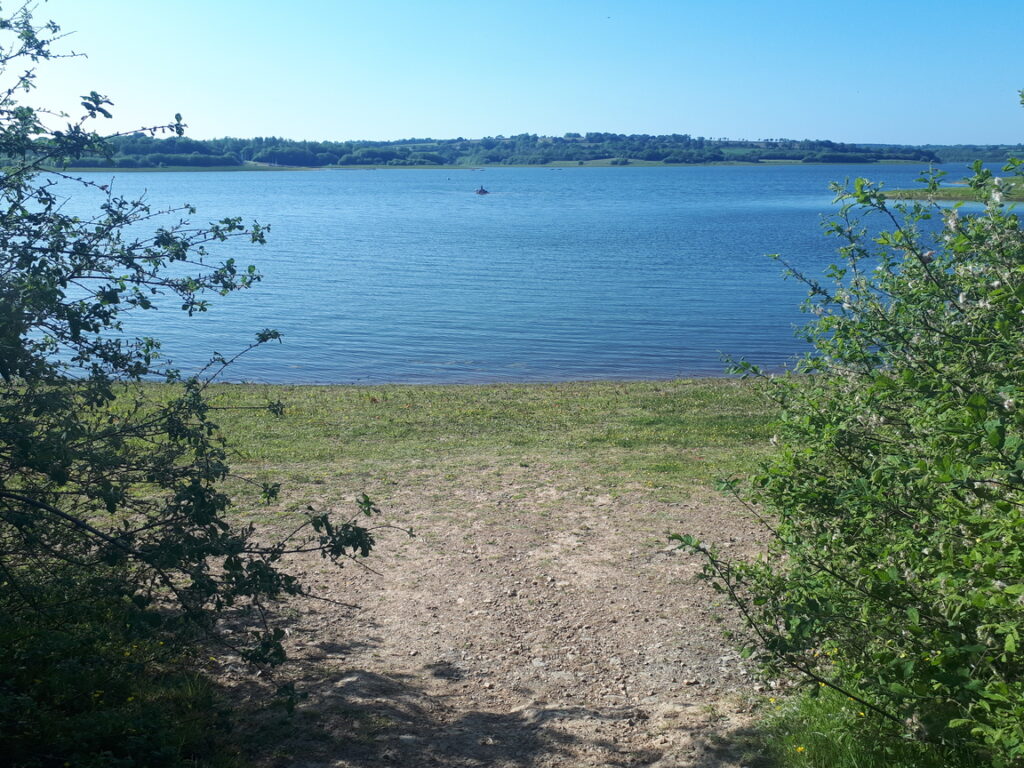 Back here in Davidstow, the water level in Crowdy Reservoir is down to 88% of total net capacity: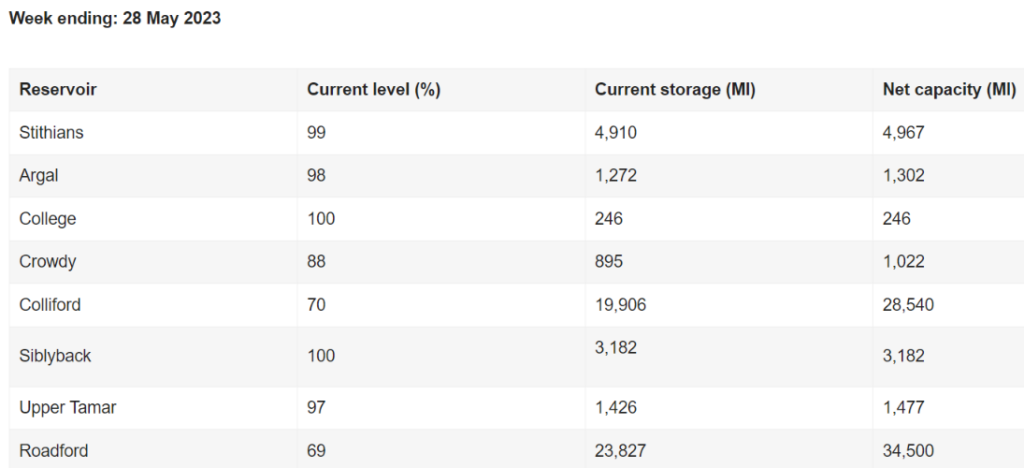 Watch this space!