As our regular reader(s) will be aware, we have been closely following the water level in Crowdy Reservoir since the locked down spring of 2020. We also started following the water level of Colliford Lake very closely in the early summer of 2022 and during the subsequent drought. Cornwall is still subject to a "hosepipe ban", officially termed a "temporary use ban".

More recently we have been astonished to watch the graph of Colliford water storage on South West Water's web site as the water level in by far the largest of Cornwall's reservoirs failed to reach even 50% of total net capacity so far this year. By last weekend it had even started to fall: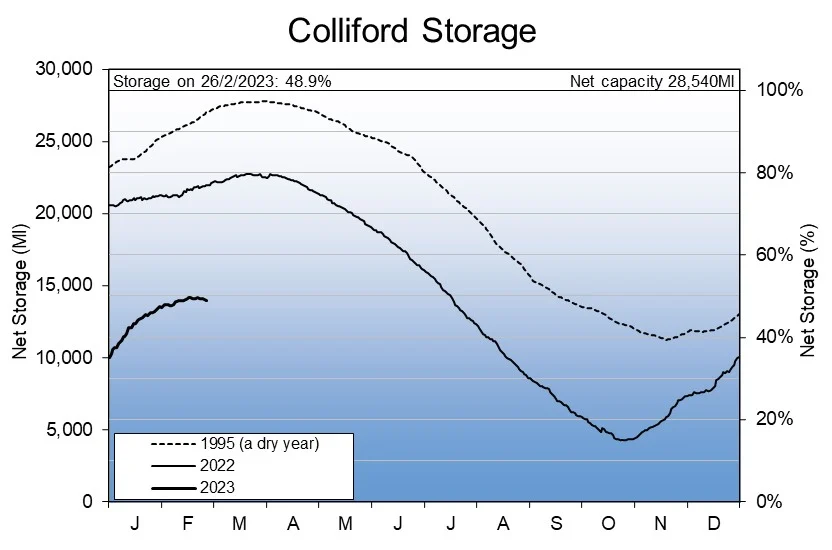 This morning we went to see for ourselves what a half full reservoir looks like. Here is some of what we discovered, starting with evidence of previous human activity in the vicinity of what used to be Menniridden, recently uncovered for an extended period by the currently abnormally low water level in the reservoir:
Here's the first in a series of videos we recorded. This one starts with Kasia wandering across the vast exposed "beach", shot from on top of Colliford Dam:
Personally I can't conceive of why it isn't fuller, and where all the water's gone. It's been a very dry February, but even so it was very wet over the winter and according to the latest Government figures the [annual] average rainfall for the last 12 months is just slightly above [the long term] average.

Maybe the average isn't important? If it rains heavily and it all runs off dry land into the oceans it doesn't fill up the reservoirs?
[Edit – March 7th]
Down on the Colliford "beach" I recorded a panorama from a sandy spot near the water's edge:
It's by far the largest reservoir in Cornwall… It's the beginning of March, and it's only half full.

So what are we all going to be drinking come August, I cannot help but wonder?
BBC News were also filming at Colliford Reservoir yesterday, and I was interviewed by Kirk England for today's "Spotlight" programme. In a report on the BBC web site this morning Kirk writes that:
David Harris, South West Water's drought and resilience director, said nobody could predict how much rain would fall but that the company had a plan in place to cover all scenarios.

Desalination plants remove salt from seawater to produce clean drinking water.

There are currently plants in the Isles of Scilly and the Channel Islands, along with a plant in London, but SWW is planning two for Cornwall at locations that have yet to be disclosed.

"What last year has shown us and what climate changes shows us is we need to be developing climate-independent sources of water here in Cornwall," said Mr Harris.

"We've got an 800-odd mile coastline; it's logical for us to look to desalination."
Kirk references his chat with me as follows:
Environmental campaigner Jim Hunt from Davidstow, near Camelford, has been monitoring reservoir levels – including at Colliford – for the last few years and said the level was "astonishingly low".

"It rained hard over winter, with a very dry February and now Cornwall's biggest reservoir is half-full," he said.

"Where's the water gone?"
David Harris didn't answer that question, but he did add that:
It was hoped the plants could be operational by the summer but admitted that was "very challenging", both from an engineering perspective and in terms of permits, which SWW was working on with the Environment Agency and Cornwall Council.
However when I discussed that matter with South West Water Help on Twitter, this is what I was told:
Hi Jim, I'd consider it highly unlikely they'll be operational by Summer 2023 holiday season.

With our net zero plan (https://t.co/5xVpKiCOHU) we signed a contract with an
electricity supplier to supply South West Water with 100% certified UK renewable energy. – Luke

— South West Water (@SouthWestWater) March 7, 2023
P.S. I had about 15 seconds of fame near the start of the BBC South West 6PM news this evening!
It's viewable on iPlayer in the UK until ~6:30 PM UTC tomorrow:
https://www.bbc.co.uk/iplayer/episode/m001jxh5/spotlight-evening-news-07032023
To be continued…