For the previous article in this series (which is becoming overly lengthy!) please see:

"Drought for Cornwall later in 2022?"
As the weeks have passed the answer to that question seems increasingly likely to be "Yes". Hence we'll begin August 2022 with the current water levels of Cornish reservoirs provided by the South West Lakes Trust: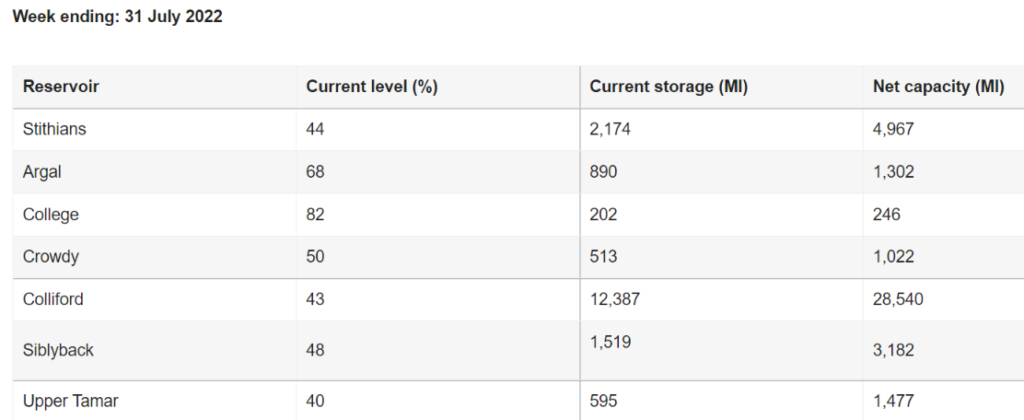 South West Water also provide graphs for the largest two: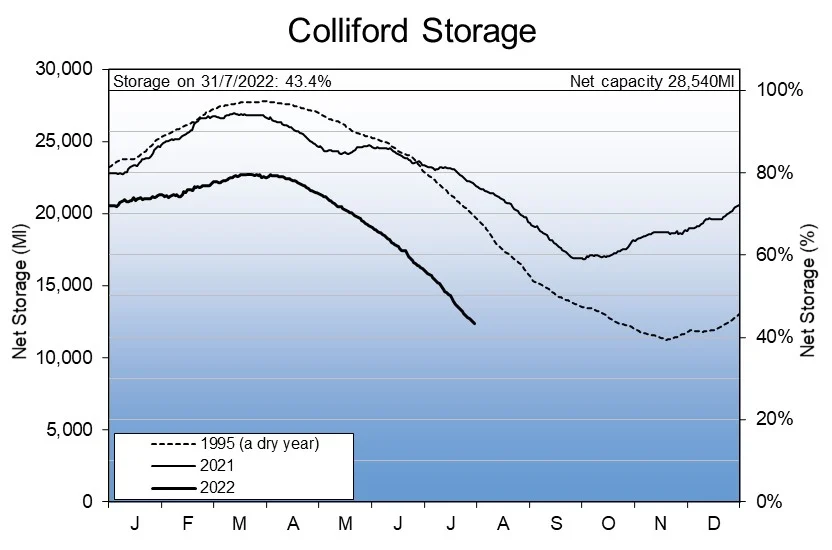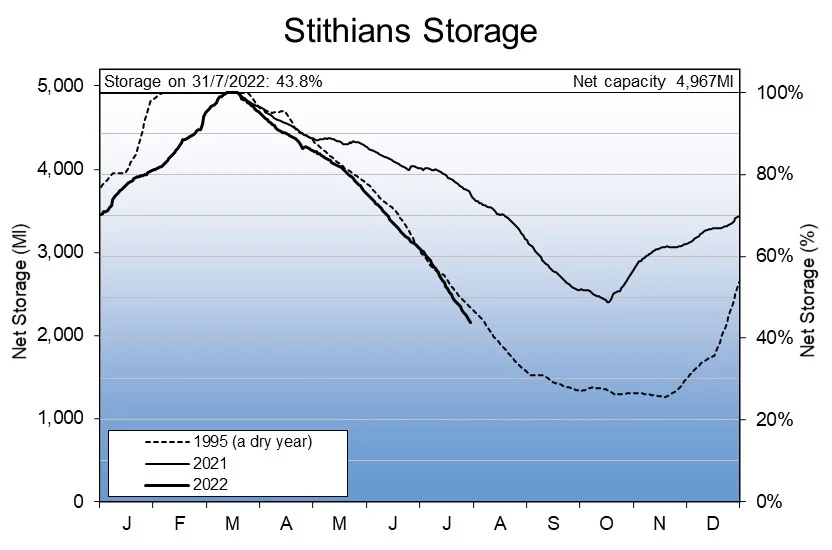 As you can see the water levels in both Colliford and Stithians reservoirs are already below their lowest levels last year. Colliford is also well below its level at the beginning of August 1995, a particularly dry year for Cornwall and other parts of the United Kingdom.
For reference, here's how our local Crowdy Reservoir looked on July 30th 2022 when almost exactly half full:
Yesterday the Met Office issued a Level 2 heat-health watch across southern England for the coming week: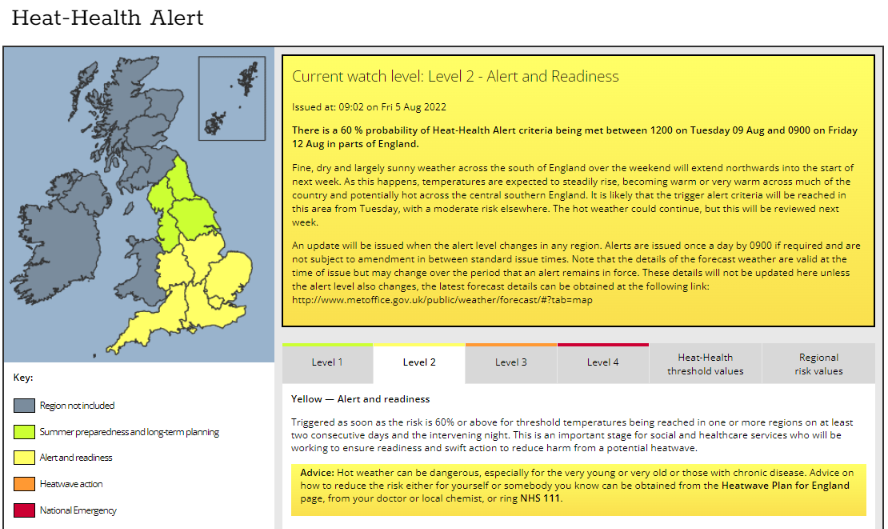 Here too is this morning's Met Office weather forecast for the Camelford area: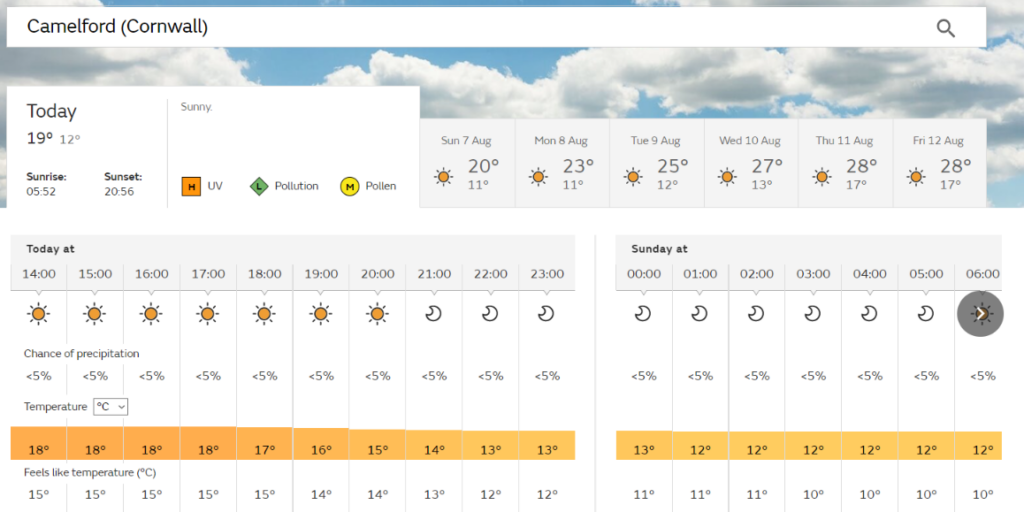 As well as the high temperatures forecast by the end of next week, here is the Met Office weather model's forecast of total rainfall over the next seven days: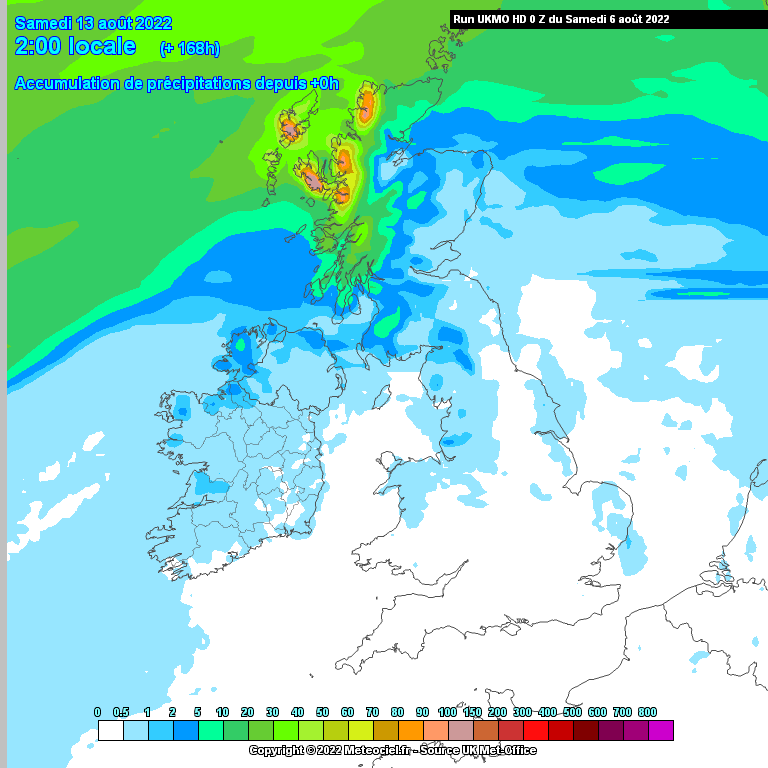 A negligible amount across Cornwall, and the medium range forecasts don't look any better. Although it's far from certain this is how things will ultimately pan out, the GFS forecast is for temperatures to reach 30 °C here on Monday 15th: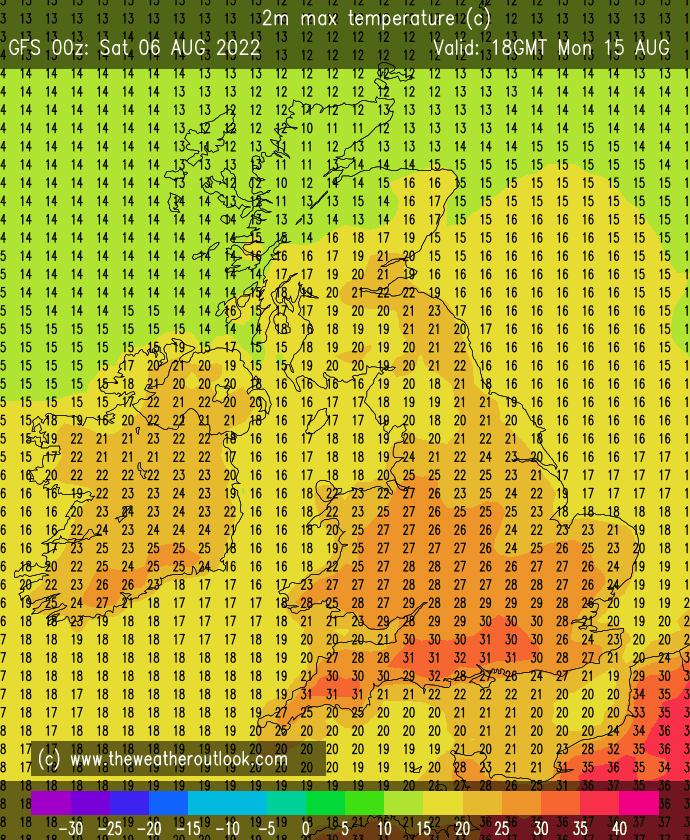 [Edit – August 8th]
Here is this morning's Met Office weather forecast for the Davidstow vicinity: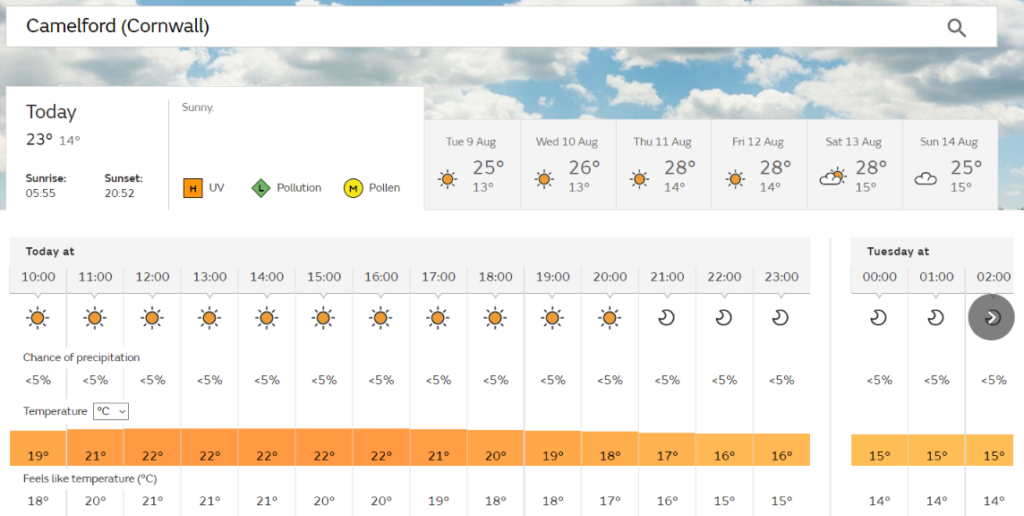 and here is their map of heat wave temperature thresholds: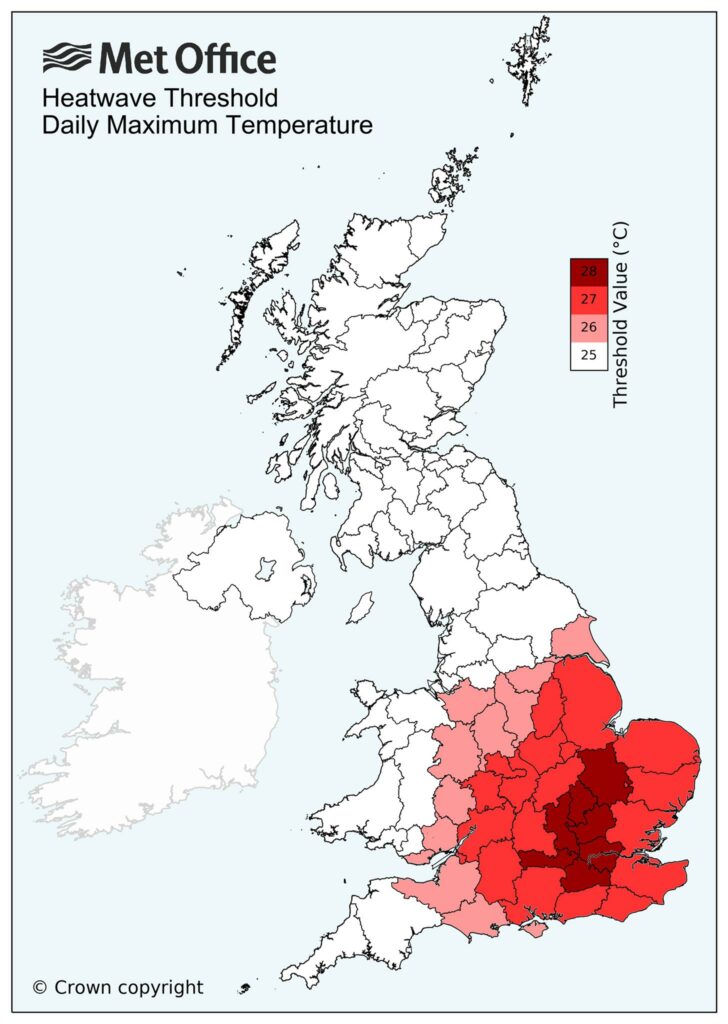 Hence it comes as no surprise that this morning the heat health alert for Cornwall has been upgraded to level 3 – "Heatwave Action":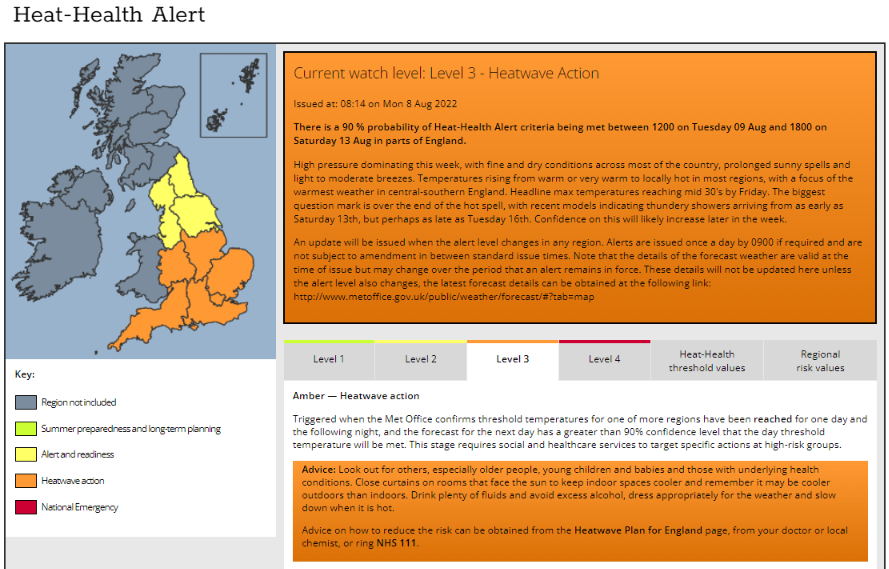 It may come as some consolation that a sprinkling of rain is currently forecast for the coming weekend. This map shows the total predicted rainfall until 1 AM on Monday morning: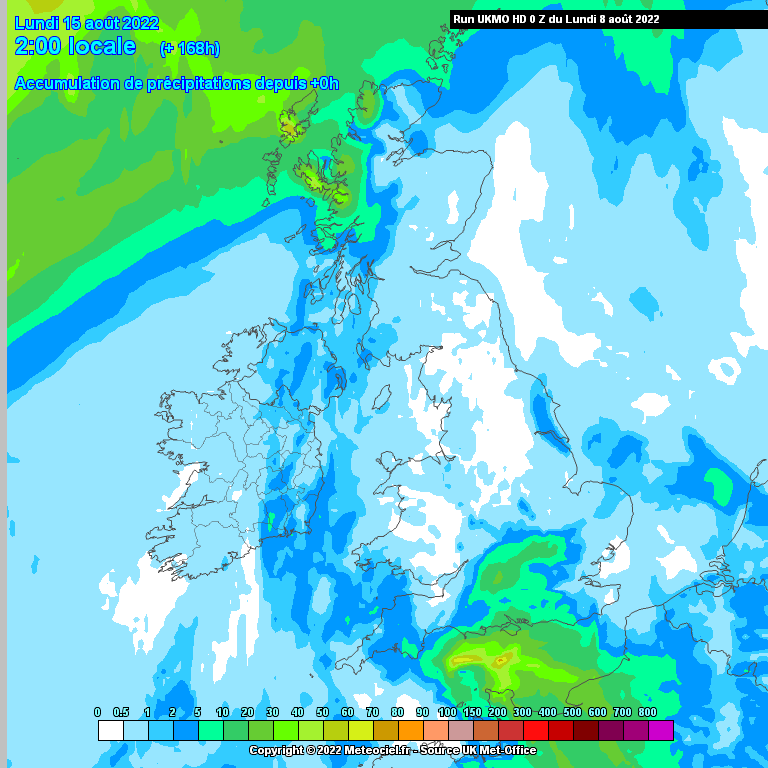 It looks as though Cornwall needs some more moisture!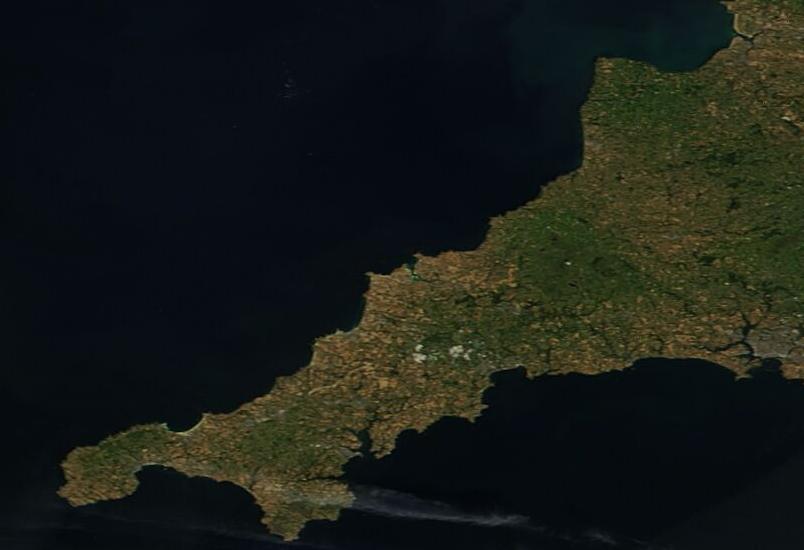 [Edit – August 9th]
Things have already started warming up here in Davidstow. The thermometer in my office currently reads 23.7 °C. Here's the Met Office's weather forecast for the rest of this week: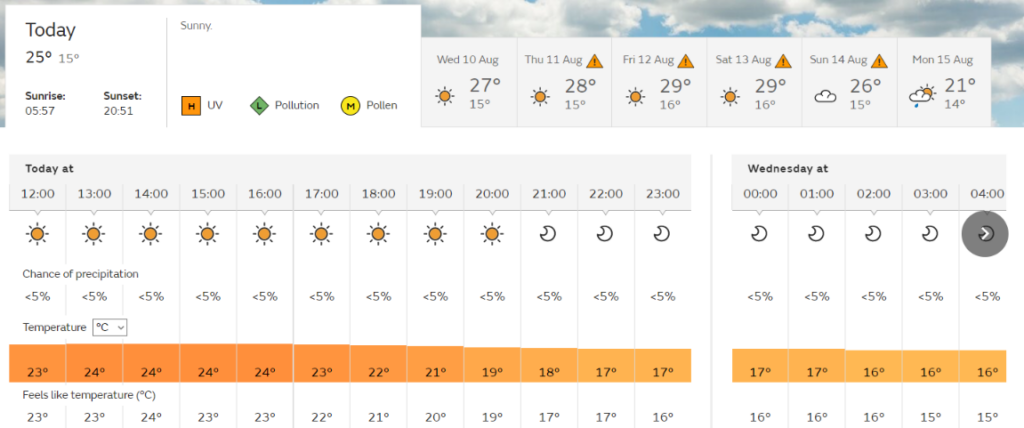 As you can see, they have now issued an amber warning for a heatwave from Thursday to Sunday: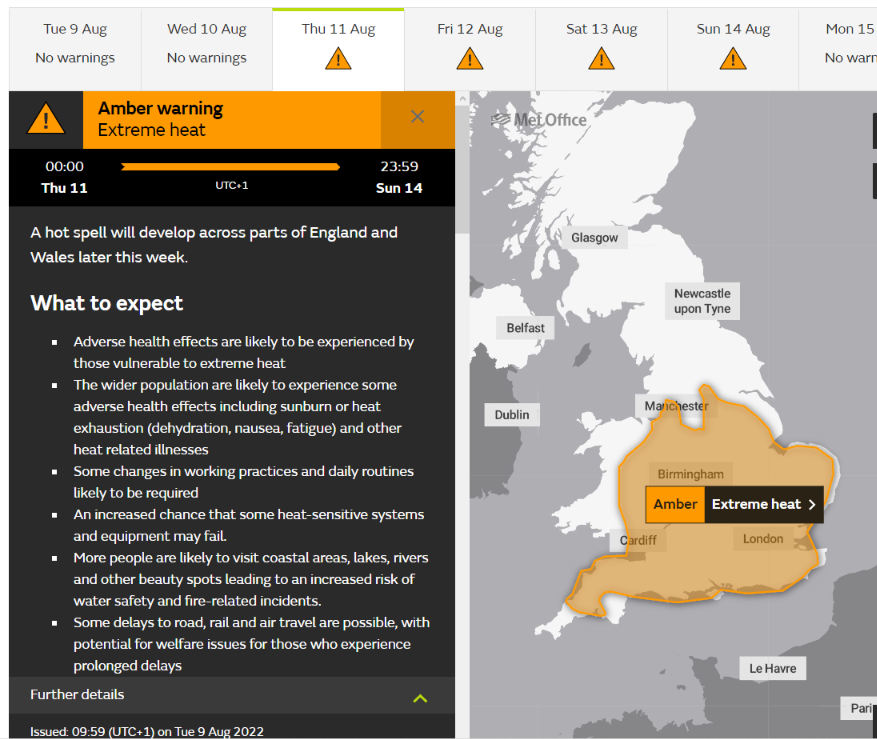 The Met Office weather model is suggesting the distinct possibility of us reaching at least 30 °C on Saturday afternoon :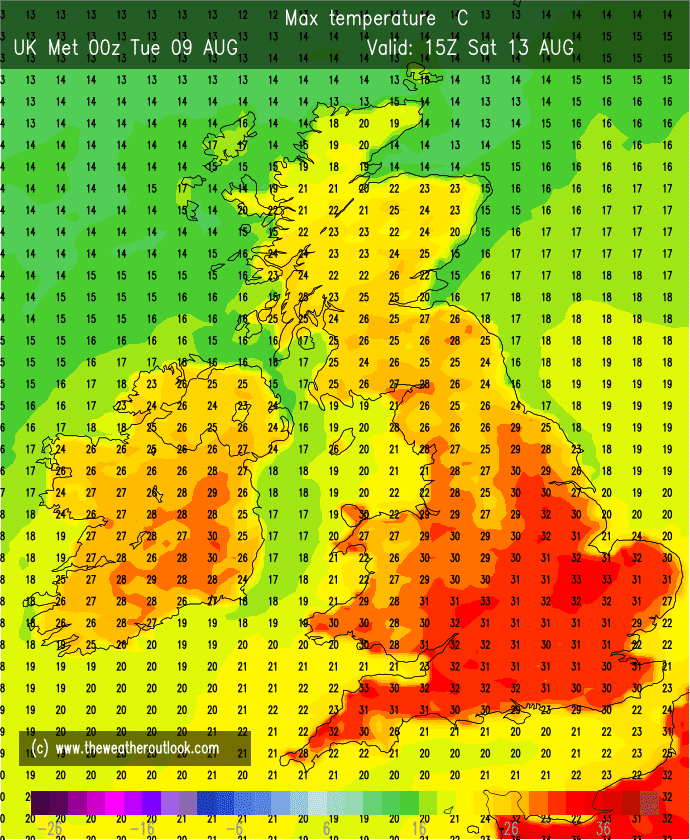 By way of a second opinion the GFS model currently predicts 35 °C !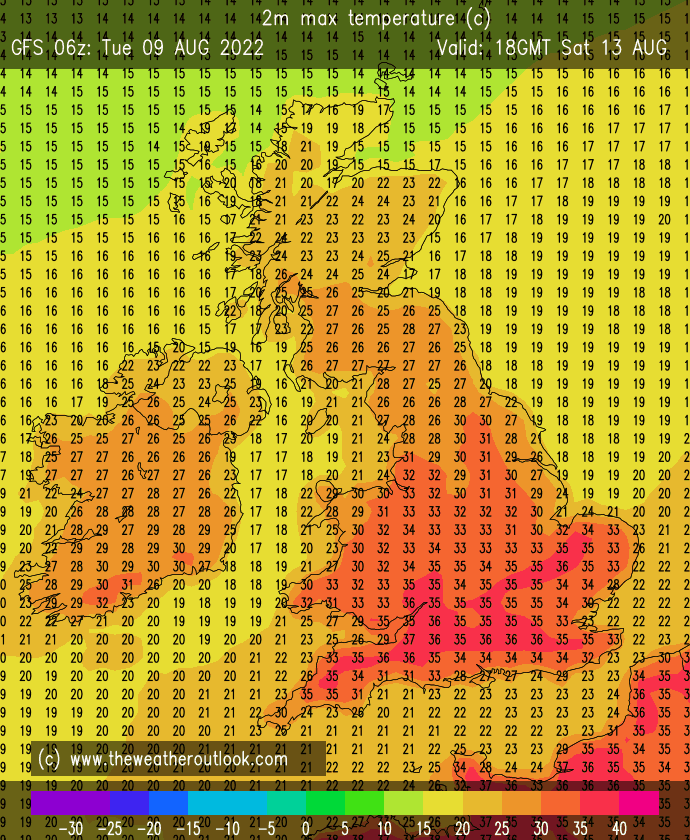 [Edit – August 10th]
South West Water have released last week's water level data for Colliford and Stithians reservoirs: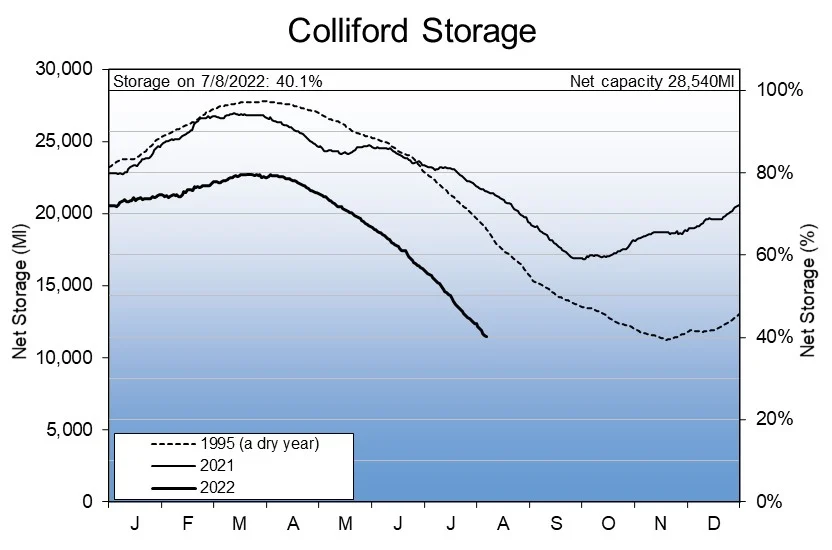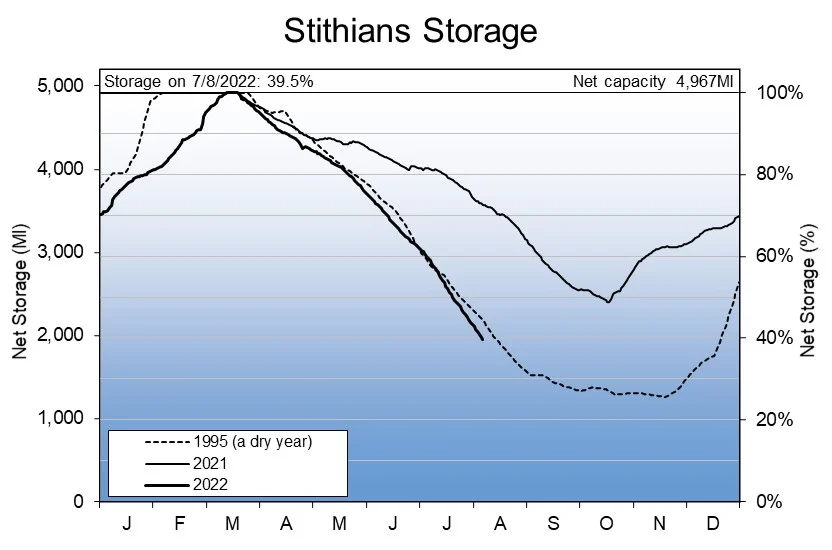 The water level at Colliford reduced by 3.3% of its total net capacity last week. Stithians fell by 4.3%.

Note that I have recently established that Stithians is not in fact the second largest of South West Water's Cornish reservoirs in terms of "gross" capacity:
Good afternoon @SWWHelp.

To rephrase my question, #Stannon Lake's
"gross storage volume" is 8,020 Ml, whereas #Stithians "net capacity" is 4,967 Ml.

Yet the latter is on your "Top 5" list but the former is not.

This does not add up! Please can you explain?

TIA https://t.co/KrN199lbXS

— Davidstow Info 〓〓 (@DavidstowInfo) August 8, 2022
Hence I am forced to wonder how Stannon and Park reservoirs compare to Stithians in terms of "net" capacity. However discovering the current water level and abstraction rate of Stannon and Park is proving to be a non trivial task!
[Edit – August 12th]
The South West Lakes Trust has just updated its table of reservoir water levels to the week ending August 7th:

Our local Crowdy Reservoir is down to 48% of total capacity, another decline of 4% (to zero decimal places) in one week.
As far as I can tell there hasn't been an official announcement yet, but according to documents "leaked " to the Guardian:
A drought has been declared across wide swathes of England after a meeting of experts.

The prolonged dry conditions, with some areas of the country not receiving significant rainfall all summer, have caused the National Drought Group to declare an official drought.

The Environment Agency has moved into drought in eight of its 14 areas: Devon and Cornwall, Solent and South Downs, Kent and south London, Herts and north London, East Anglia, Thames, Lincolnshire and Northamptonshire, and the east Midlands…

Water minister Steve Double said: "We are currently experiencing a second heatwave after what was the driest July on record for parts of the country. Action is already being taken by the government and other partners including the Environment Agency to manage the impacts. All water companies have reassured us that essential supplies are still safe, and we have made it clear it is their duty to maintain those supplies.
P.S. Here is the official press release, which points out that:
This change in status to drought is a change in categorisation, indicating the impact prolonged dry weather is having on water resources and the environment. It does not automatically trigger actions itself, but moving to drought status means that the Environment Agency and water companies will step up their actions to manage the impacts and press ahead with implementing the stages of their pre-agreed drought plans. These plans follow local factors including reservoir levels, demand and forecasts, and lead to precautionary actions such as Temporary Use Bans. The last drought in England was 2018.
Watch this space!