Davidstow Parish Council is back to its regular schedule of meeting on the first Monday of each month.
As far as I can tell the agenda for the meeting on October 7th 2019 is still not available on the Parish Council web site, so I cycled to the noticeboard in Tremail and took this picture: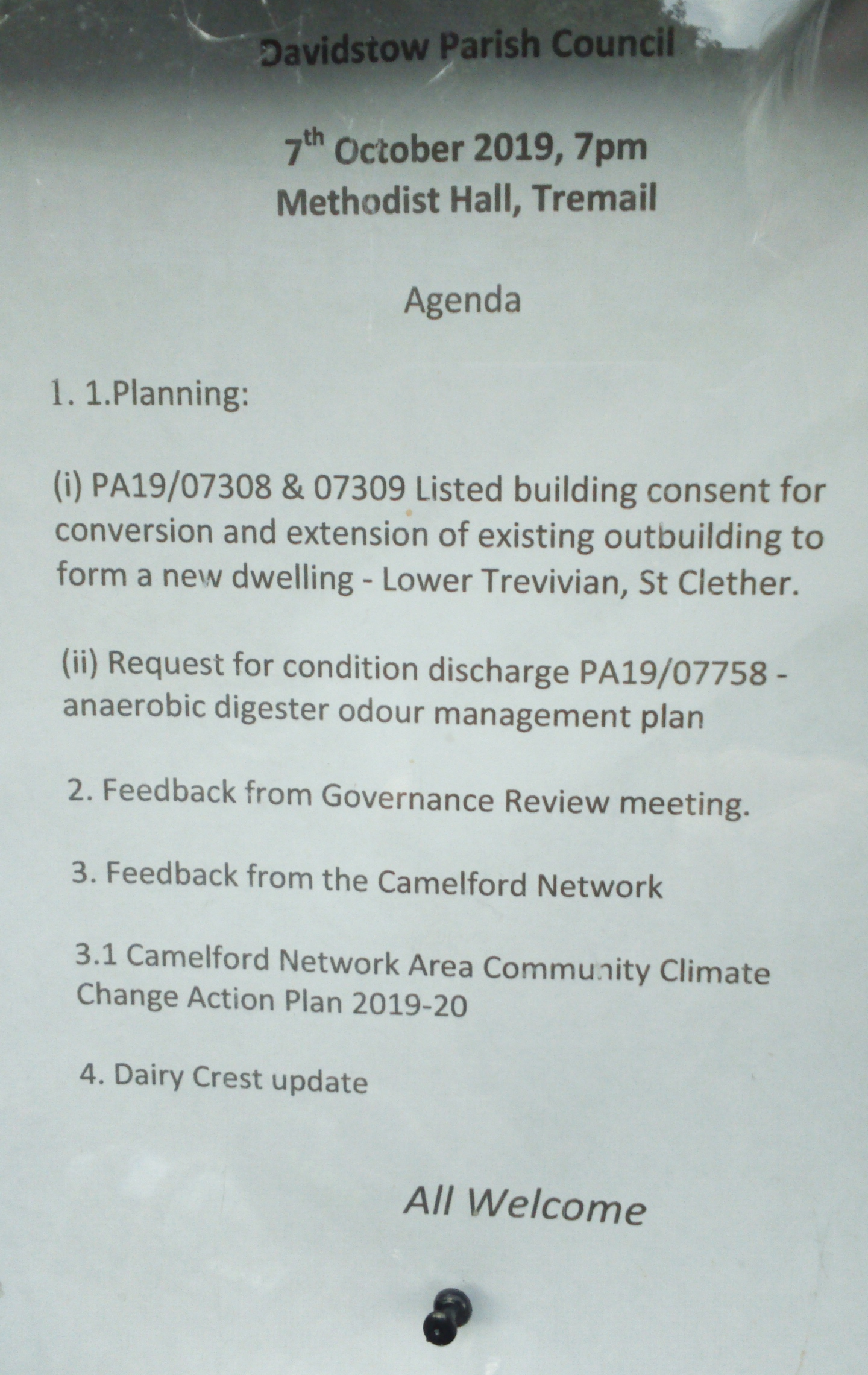 I shall certainly endeavour to attend the meeting, since I represented Tremail on the meeting between the Parish Council and Saputo (as Dairy Crest is now called) up at the "cheese factory" last week. Here's a photographic record of my visit:
Earlier in the summer I also attended a meeting where Cornwall Council's "Climate Change Action Plan" was discussed:
The county of #Cornwall recently declared a #ClimateEmergency. Today's discussions at the #Penryn campus of the @UniofExeter are subject to #ChathamHouseRules.

However I have received permission to publish the following images:#ClimateCornwall #ClimateChange pic.twitter.com/cn1PArc2lh

— Jim Hunt (@jim_hunt) June 5, 2019
That plan has now been published. According to the County Council web site:
As a Council we have a leading role to play in the climate emergency, but we cannot deliver these ambitious outcomes alone, we will need support from all of our residents – from our communities, businesses, schools, public sector partners, the voluntary sector and many more. You have an important role to play in making change happen, not just as residents but in your working lives too. This is just the start of the journey; please join us in tackling the climate emergency.
On Monday evening it will be interesting to discover what the Camelford area equivalent contains. At the very least I know that Claire Hewlett, the mayor of Camelford, is interested in what the Cornwall Council's report refers to as "mak[ing] electric vehicles a viable option for many drivers". She recently visited our courtyard here in Tremail to examine our fleet of electric vehicles and associated charging infrastructure. In the pouring rain!