For the previous episode in the ongoing saga of the Covid-19 pandemic here in Cornwall please see:

"The Covid-19 Holiday Season in Cornwall"

Schools have gone back and the clocks change in a couple of weeks, but Covid-19 is still with us. In actual fact it's on the increase again. Both nationally: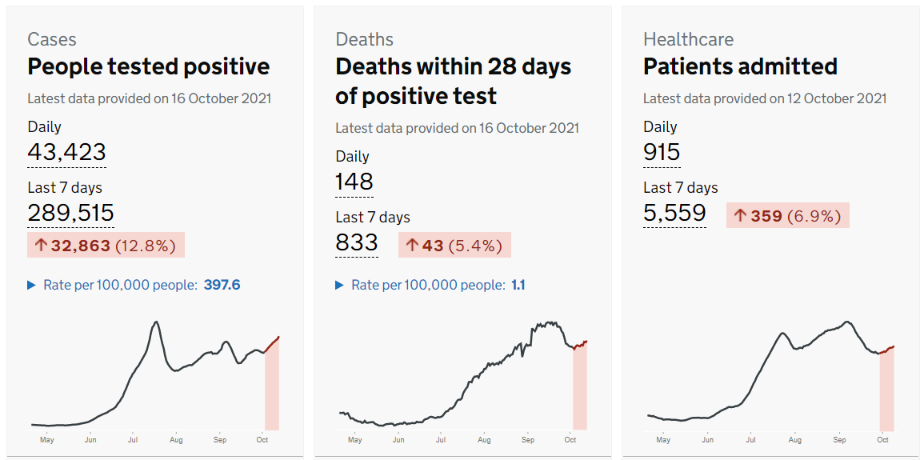 and here in the Camelford MSOA, where we now find ourselves in the top DHSC category with a case rate of 889.8 per 100,000 people per week: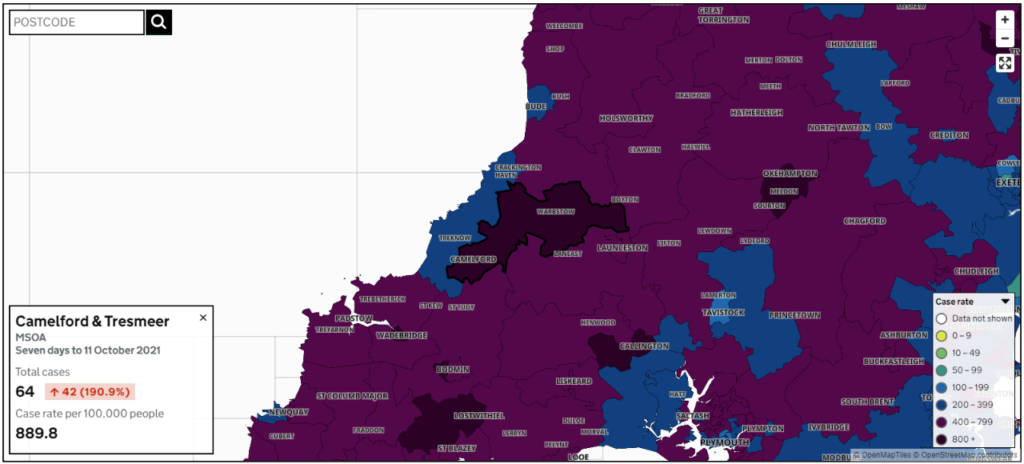 Just down the A39 "Atlantic Highway" in Wadebridge the rate is now over 1,000.

Further west the top spot goes to Camborne West, with a case rate of 946.4: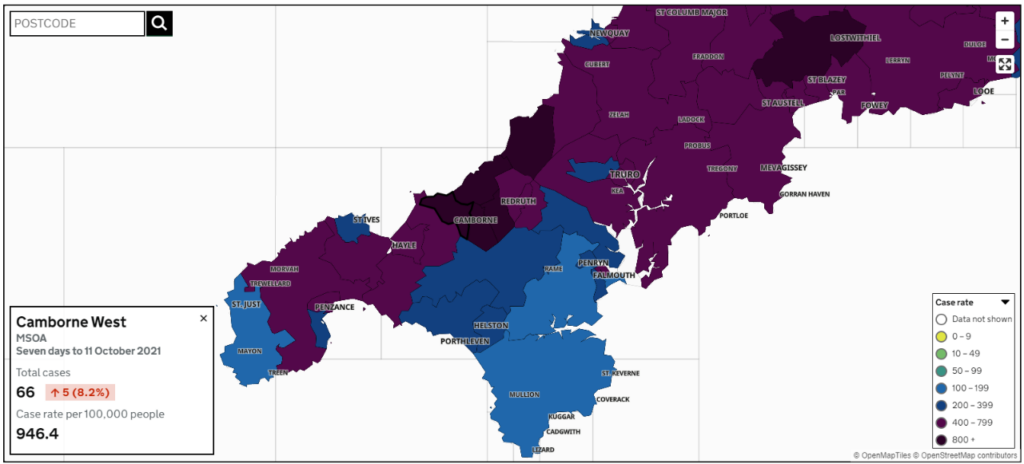 As you can see from the maps there are several other area across Cornwall in the 800+ category, whilst across Cornwall as a whole the average case rate is 539.5, an increase of 15.6% compared to a week ago: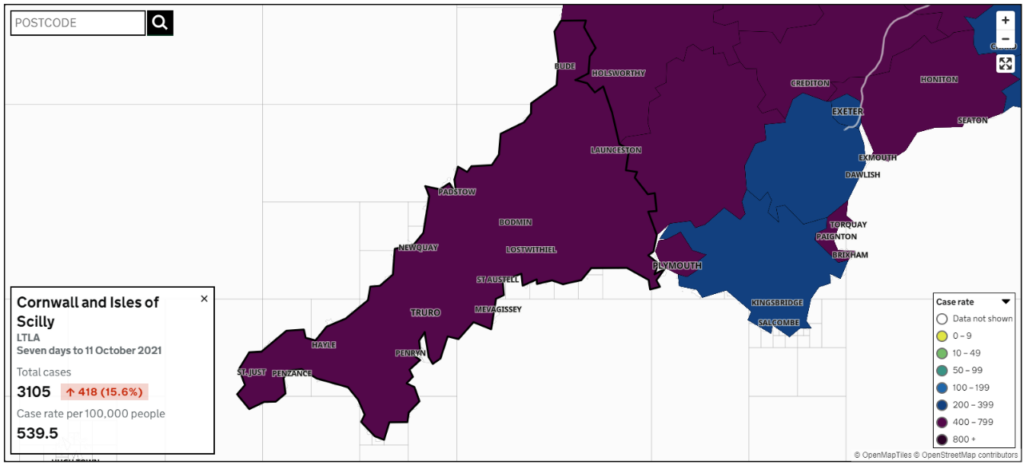 [Edit – October 22nd]
Further to the BBC report in the comments below, the The Royal Cornwall Hospitals Trust is "tweeting" much the same story:
They are also providing their current Covid-19 statistics:
The UK Government statistics show Covid-19 cases still rising quickly across the nation as a whole: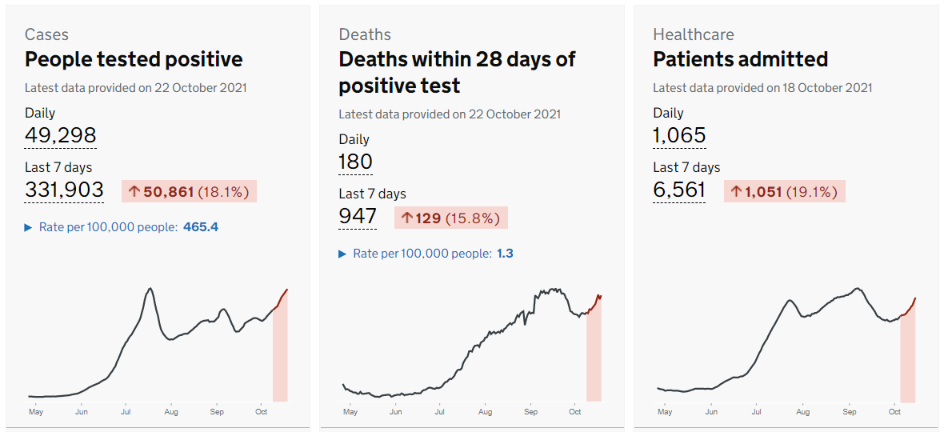 Across Cornwall as a whole the rolling weekly case rate is still almost unchanged at 546.8 per 100,000 population: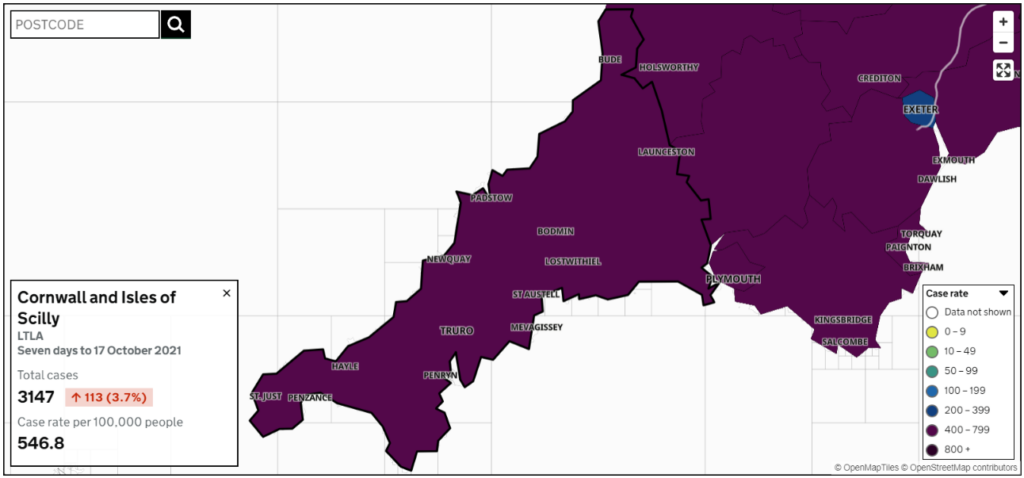 Here in the Camelford area the case rate has fallen to 528.3. However the rate in Bude has risen to 924.6, whilst Bodmin West has fallen slightly to 954.1: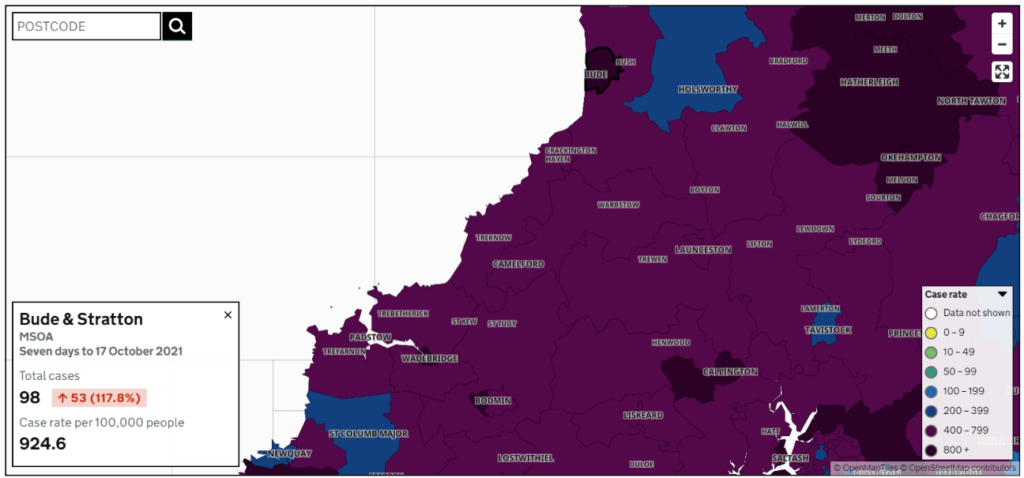 Further south Par is now home to an outbreak with a case rate over 1,000: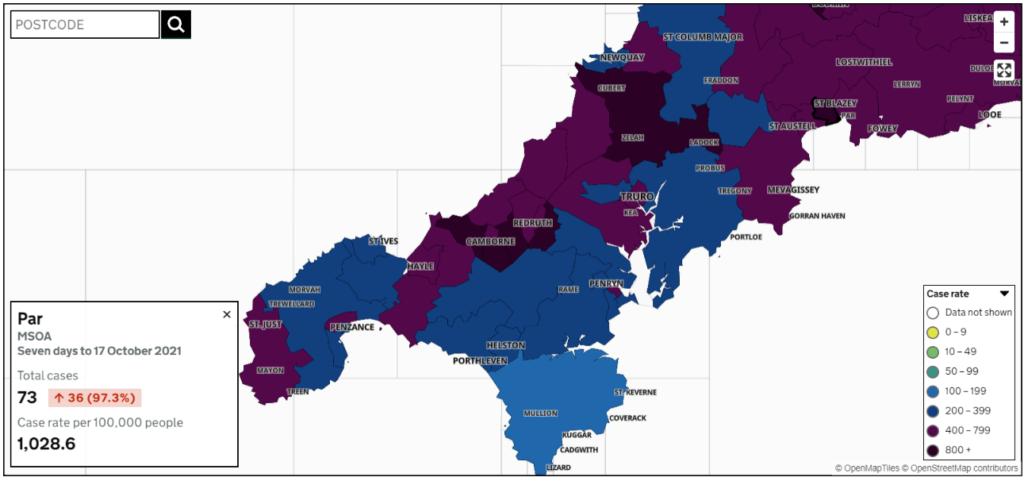 The BBC reports today that:
MPs are asking for help from the government to deal with a "perfect storm" in the health system.

There have been more than 100 patients waiting to be seen in an emergency department designed for 40, and 25 ambulances waiting outside.

The hospital trust's medical director said the situation was improving slowly.

Steve Double, MP for Newquay and St Austell, said: "It is regrettably a sort of perfect storm of a number of factors coming together that is creating this unprecedented level of demand on our system."

Mr Double said he had spoken with health minister Ed Argar who was "asking for further details to see exactly what is going on and what further help could be made available".

Cherilyn Mackrory, MP for Truro and Falmouth, said she was "acutely aware of the current situation".

She added: "Whatever the hospital need to alleviate this pressure, I will do to try and help them.