Another downpour last night has resulted in all too familiar news this morning. Here's the NetWeather.TV rain radar view of Cornwall at 9 PM last night: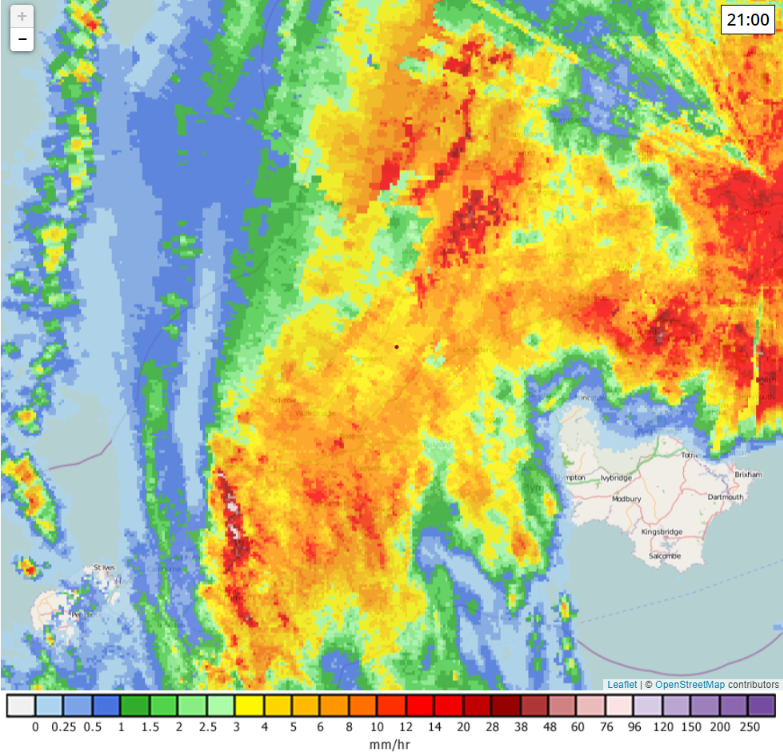 Davidstow is under all that rain dropping cloud somewhere! This morning there are flood warnings in place for North Devon, and flood alerts across North Cornwall: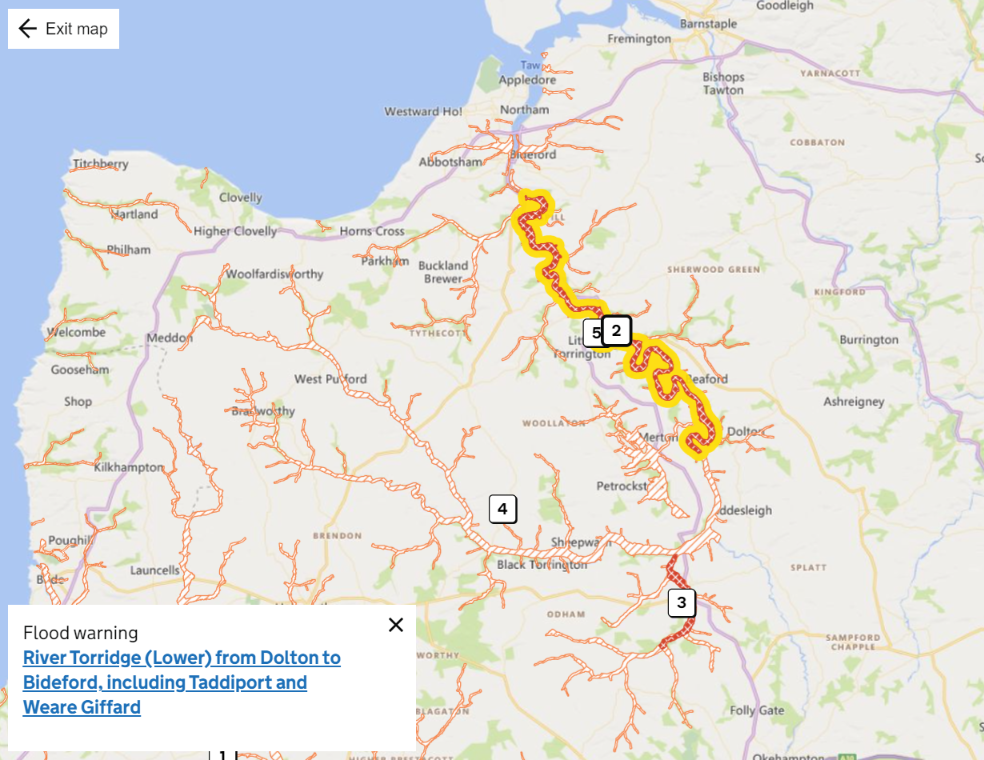 What's more the Surfers Against Sewage map reveals that nearly all the beaches in North Cornwall also have water quality warnings in place: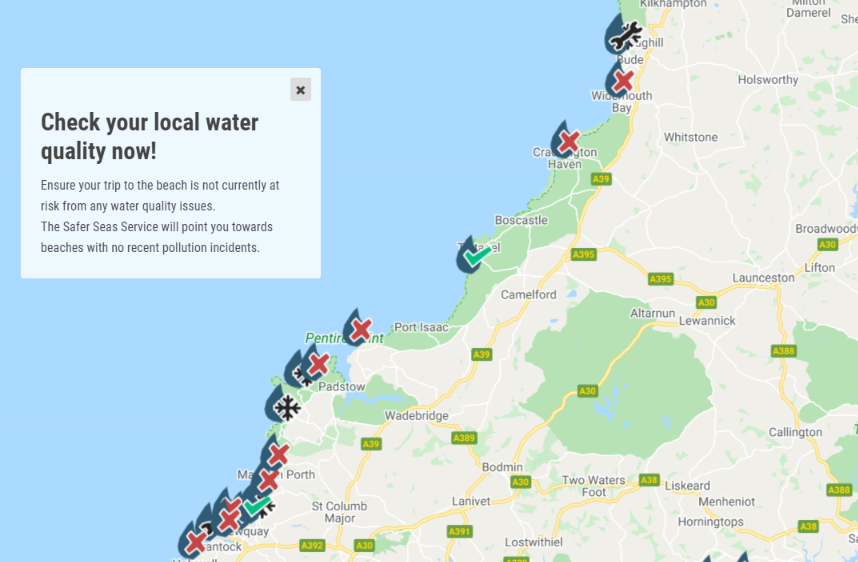 The little low tide "beach" at Trebarwith Strand is currently clear, but Watergate Bay is not.
[Edit – October 26th]
Here is Baroness Jones from the Green Party explaining the problem on BBC Newsnight:
[Edit – October 28th]
The heavens have opened over North Cornwall yet again: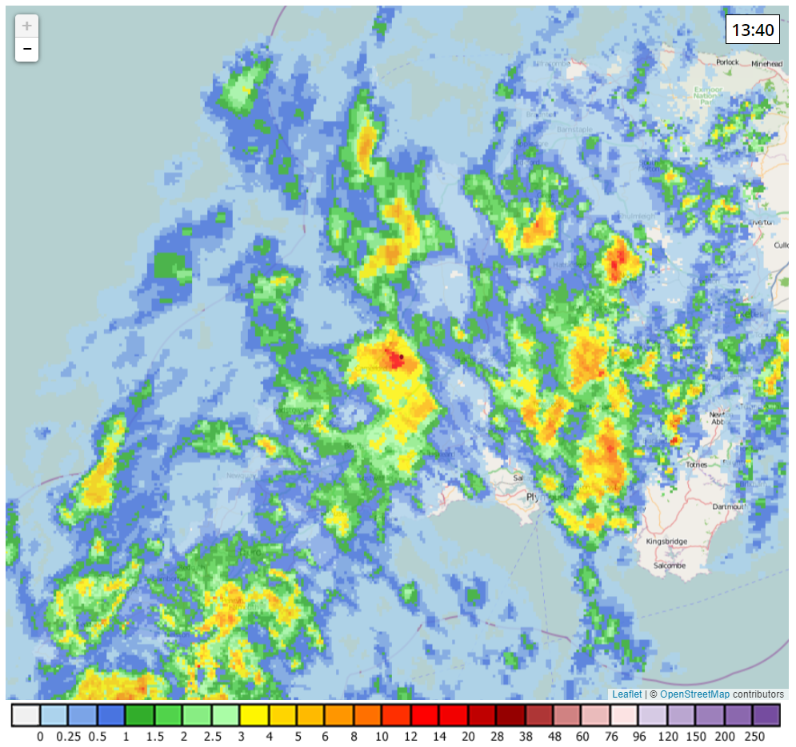 As a seemingly inevitable consequence flood alerts have now been issued for the middle and upper River Tamar, amongst other places: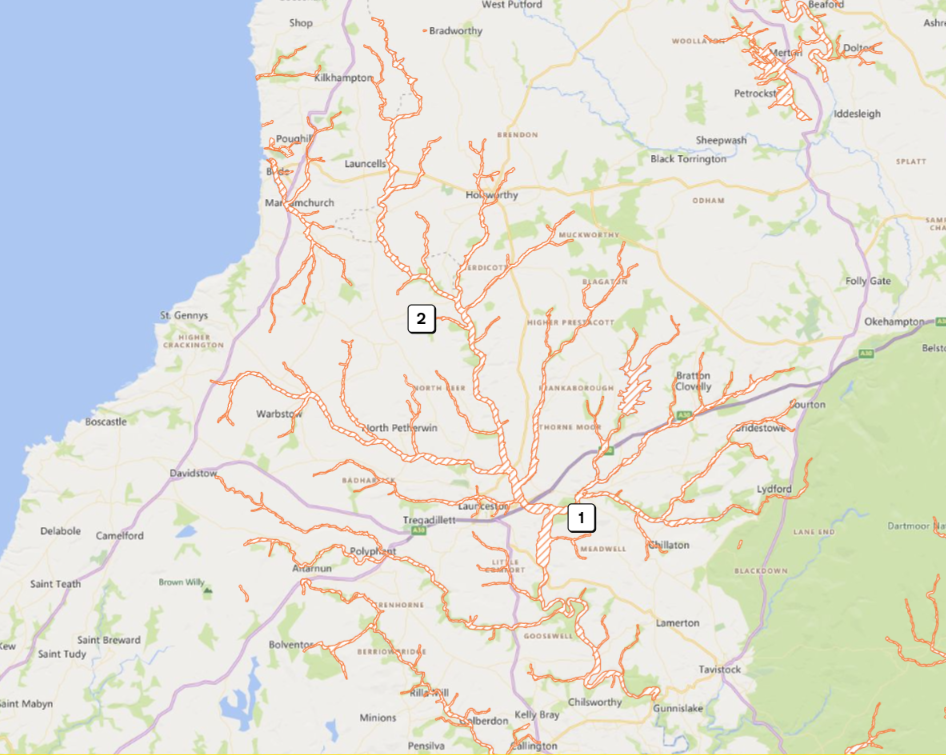 P.S. The heavy rain has continued: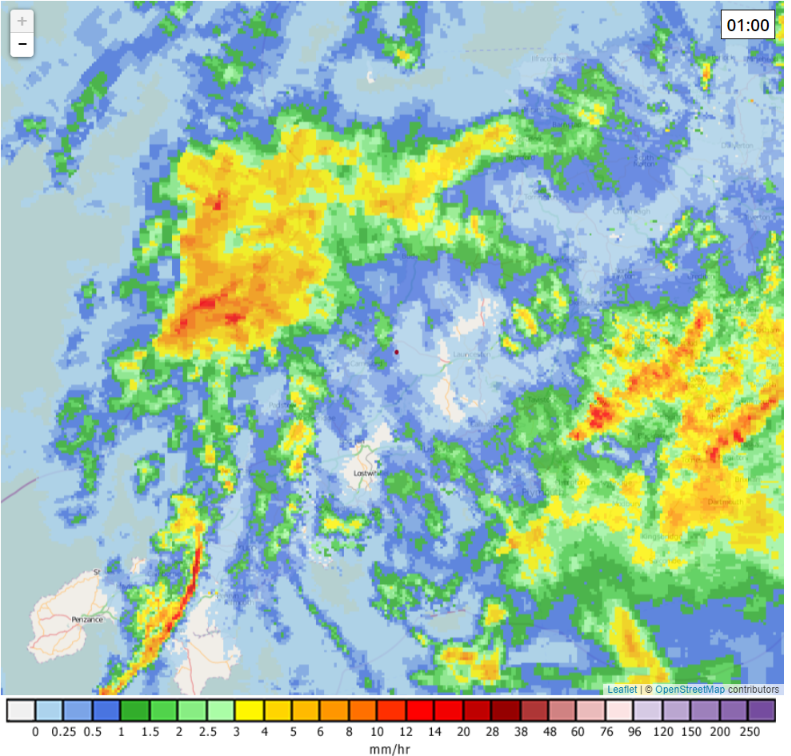 Flood warnings have now been issued for several rivers just over the border into Devon:
According to the Environment Agency: Flooding is expected. Act now!
A flood warning means you need to act: flooding is expected. You should do all the actions for a flood alert, but also:
move vehicles to higher ground if it's safe to do so
move family and pets to safety
move important items upstairs or to a safe place in your property, starting with cherished items and valuables, then furniture and furnishings
turn off gas, electricity and water supplies if it's safe to do so; never touch an electrical switch if you're standing in water
if you have property protection products such as flood barriers, or air brick covers, use them now
keep track of the latest flood risk situation
[Edit – October 30th]
This seems to be the meat of the letter I received from Scott Mann MP a couple of days ago:
The facts are that we have a combined sewer system in this country, meaning rainwater and sewage both flow into it. This means that heavy rain and storms can lead to additional pressure on the system that needs to be released". lt is not a coincidence that discharges happen most often during or after a storm. lf this pressure is not discharged the wastewater – including sewage – will back up into the streets and into people's homes. This is not hyperbolic; it is a fact. The age of this Victorian sewerage system means that the complete elimination of storm overflows would be extremely challenging. Unfortunately, they have always been a part of our wastewater infrastructure and until now little action has been taken by any government or party.

One of the recent amendments in the Lords would have required work to be done to eliminate sewage discharges, and I was one of several hundred MPs who opposed it. Initial estimates of the work necessary to achieve this are in the region of £150 billion and upwards. To put that in perspective, this is more than the entire budget of the NHS. These costs would inevitably be passed onto taxpayers or water bill payers. No sensible legislator could have backed this. I am of the view that the water companies should foot the bill for improvements over time and not the taxpayer, so these improvements must be manageable.
That rather begs the question about where we would be now if the necessary improvements had been started a decade or two ago? And indeed what the actual cost would be in today's day and age!
[Edit – November 1st]
This tweet from Professor Dieter Helm seems apposite at this juncture?
[Edit – November 3rd]
After almost continuous heavy rain, hopefully the end is in sight for the current series of pollution incidents on the beaches of North Cornwall. Several beaches are not being monitored at this time of year, but currently Widemouth Bay and Trevone are the only ones still marked in red on the Surfers Against Sewage water quality map: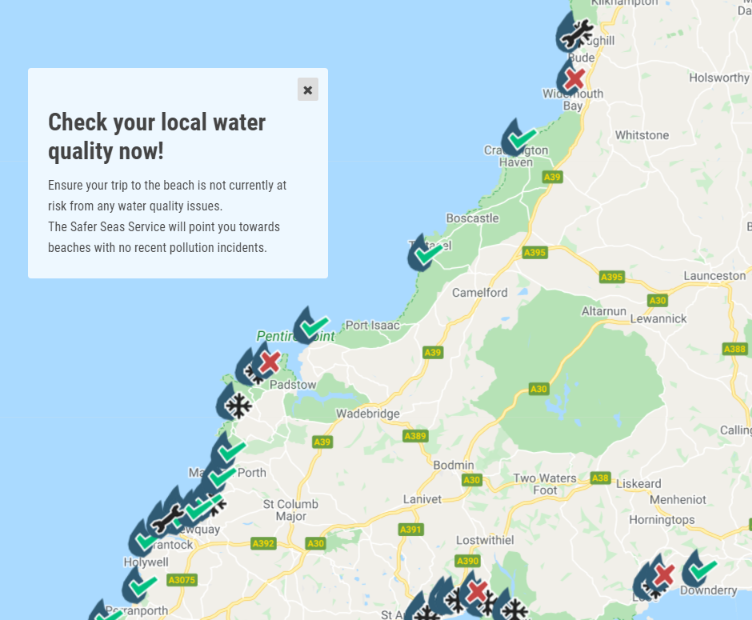 Hopefully those two will get the all clear tomorrow
[Edit – November 5th]
In answer to my question above about "the actual cost of the necessary improvements to the UK's ageing sewage infrastructure", the Government has just announced:
An independent research project that considers options, costs and benefits for reducing storm sewage discharges in England.

Reducing sewage discharges from storm overflows is an important priority to protect the environment.

This research, the first assessment of its kind, was commissioned by the Storm Overflows Taskforce – made up of Defra, the Environment Agency, Ofwat, CCW, Blueprint for Water and Water UK – and funded by Water UK.

The independent research, carried out by Stantec, presents a detailed overview of potential approaches that will act as an important evidence base for government action.

The Storm Overflows Taskforce will now consider the report and its recommendations to:
support the development of the best mix of policy solutions
inform the government plan on storm overflows to be published in September 2022.
The report itself evaluates the costs and benefits of a range of scenarios. The methodology used is summarised like this:
The policies tested consider the universal implementation of permits to control storm overflow spill frequency to an average of either 40, 20, 10, 5 or 0 (zero) times per year (named F40, F20, F10, F5 and F0, respectively).

Three scenarios are also considered, describing the engineering approach used to deliver policies. The first relies on a conventional approach to capture spills from storm overflows using network storage (W) which is sized sufficiently to capture spills and allow for these to slowly return to the sewer network for treatment.

The other two augment the conventional approach with partly or wholly nature-based technologies (retrofitted SuDS) at two levels: 10 percent of impermeable area controlled (S10) and 50 percent of impermeable area controlled (S50). In this context, controlled means that these flows do not enter the combined sewer system. The SuDS solutions are implemented in addition to sewer network storage; therefore creating mixed grey-green solutions. The S10 level of SuDS is at a modest level across the catchment, whilst the S50 level is at a high level. Controlling runoff from 50% of impermeable area (S50) is broadly equivalent to preventing all highway runoff entering combined sewers in a fully combined catchment.
The costs of the various approaches are summarised in the following infographic: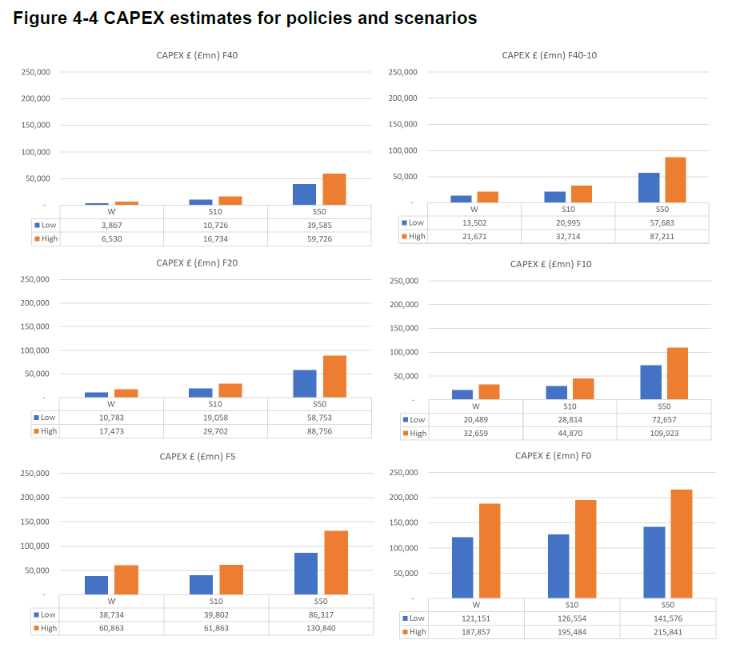 There seem to be a wide range of available options that cost considerably less than £150 billion, and that's before accounting for the associated benefits.