I saw this "Tweet" from BBC Radio Cornwall's Laurence Reed yesterday:
Got a question about #lockdown or any other policing issue? Tune in tomorrow after 2pm @BBCCornwall lunch and talk to @CCShaunSawyer @DC_Police . ☎️0808 100 1039. pic.twitter.com/ZLAPJ7QmI0

— Laurence Reed UK BBC 🎙 (@laurencereed) May 13, 2020
Since I'd already been writing to my MP about the probable problems of policing the new Covid-19 lockdown exercise guidance revealed by Boris Johnson over the weekend, the thought of asking Shaun Sawyer a question or two was irresistible! I duly dialled the listed number and was told to expect a call back once Shaun Sawyer was on air later in the afternoon.

Sure enough a couple of hours later I was listening to what Shaun had to say when my mobile phone rang. Now listening via my phone I heard Laurence frighten Shaun off by asking him about his worst ever date! Not long after that Laurence said my name. You can hear what happened after that by fast forwarding the following recording on BBC Sounds to 1:53:45

https://www.bbc.co.uk/sounds/play/p08brmvq
The recording will be available for another 29 days, and during that time I'll endeavour to post a more complete transcript below. For the moment here's an extract to give you a flavour:
Jim – I was hoping to speak to our Chief Constable, but he's gone… Can I make my point?


Laurence – Please do.

Jim – Lots of other people have made all sorts of other points that I was endeavouring to get across to our Chief Constable, but I'll just quote one from Twitter, not written by me. He was "tweeting" to Shaun, saying "What do you make of the ill thought out, poor legislation made in haste by our Government?". So my question would have been "Has the Government consulted either the Chief Constable of Devon and Cornwall or indeed the Chief Constable's organisation before implementing these hasty, ill thought out measures that all of us in Devon and Cornwall are having to put up with?"

He's gone, so I can't ask him!
Plus the question I'd have put to @CCShaunSawyer if you hadn't frightened him away with a question about his first date!

Before the recent "easing" of the #lockdown regulations, were you and/or the @PoliceChiefs as a whole consulted about the new "infinite exercise" guidance?

— Jim Hunt (@jim_hunt) May 14, 2020
Here is the output of James Annan's Covid-19 epidemic model, comparing what actually happened with what would have happened if the UK lockdown had been imposed one week earlier: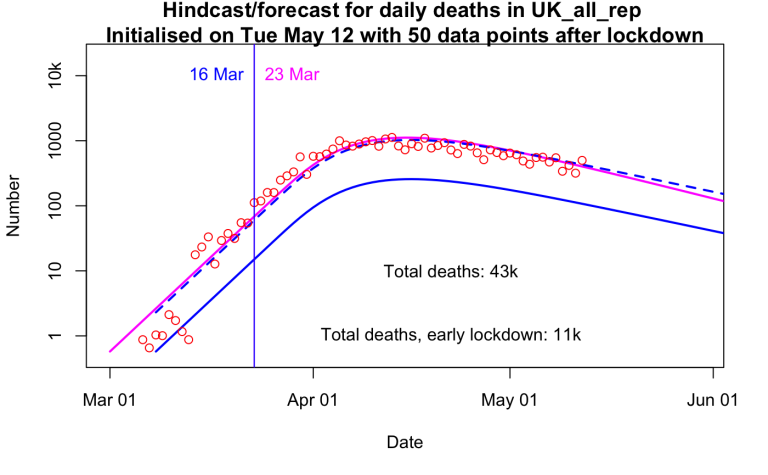 To summarise, that's 11,000 simulated deaths if lockdown had taken place on March 16th, instead of around 43,000 actual deaths following lockdown on March 23rd.
Watch this space!