The UK Government is now only updating its Covid-19 Dashboard once a week. Here's last week's Cornwall wide overview: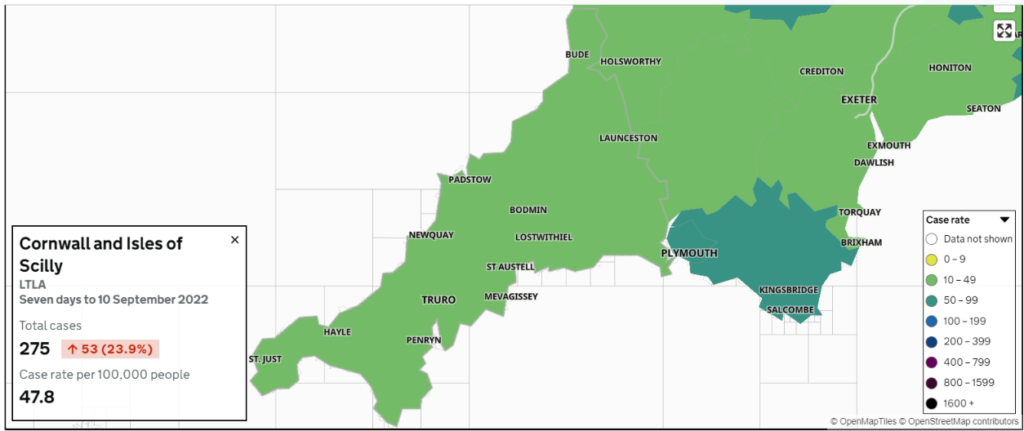 The effectiveness of the current Covid-19 testing regime is certainly open to question, but an increase of almost 25% in a week certainly gives some cause for concern.

Zooming in to North Cornwall, there is currently a "hot spot" of cases just up the A39 "Atlantic Highway" from here in the Poundstock MSOA:
There are currently fewer hotspots with a weekly case rate over 100 per 100,000 population in West Cornwall: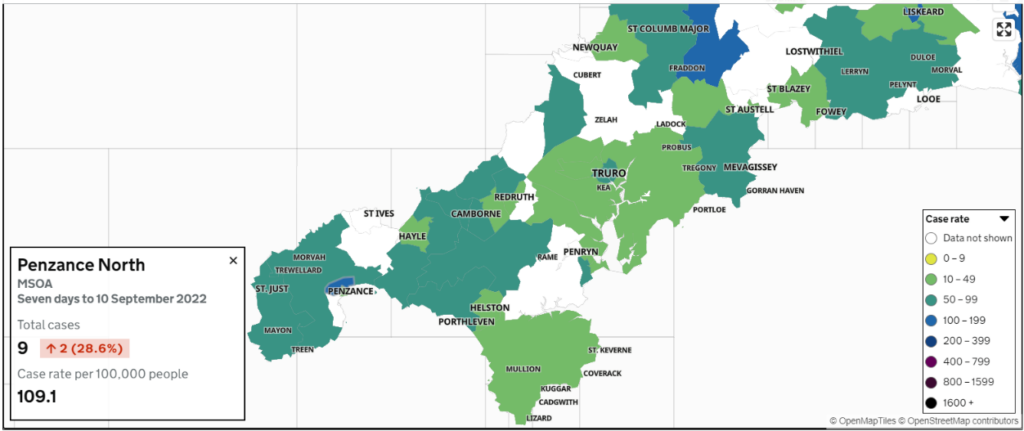 Recently there has also been a slight increase in Covid admissions to the Royal Cornwall Hospital Trust:

This analysis suggests that hospital admissions across South West England as a whole have also started to increase:
"Implied R estimate rising towards 1.0". We await next week's data with much interest.
[Edit – September 22nd]
The case rates across the county on September 17th don't look alarming in the least: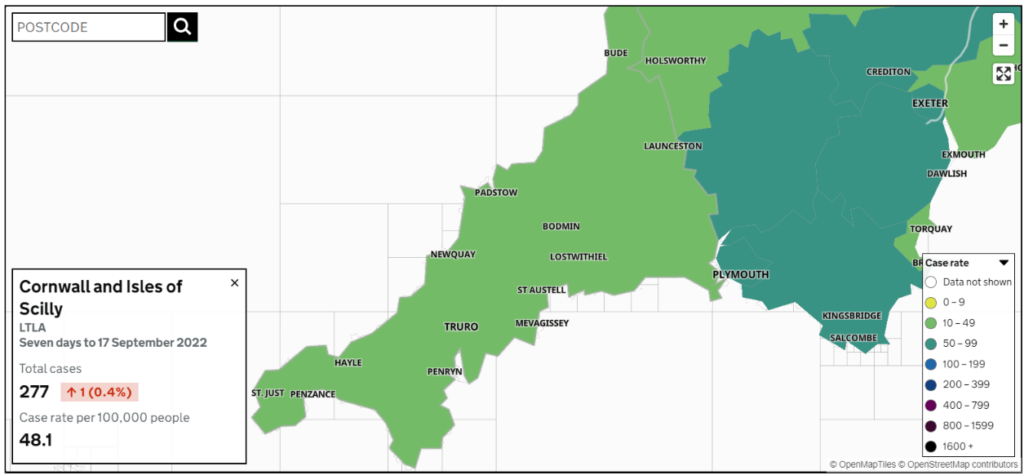 However the same cannot be said for hospital admissions:


What could possibly have caused that sudden spike in admissions on September 19th?
[Edit – September 29th]
His Majesty's Government have released the latest weekly Covid-19 statistics, and they do not look encouraging for Cornwall. Let's start with the case rates on September 24th, although as we shall see the current lack of exhaustive testing means they are a long way from the whole story: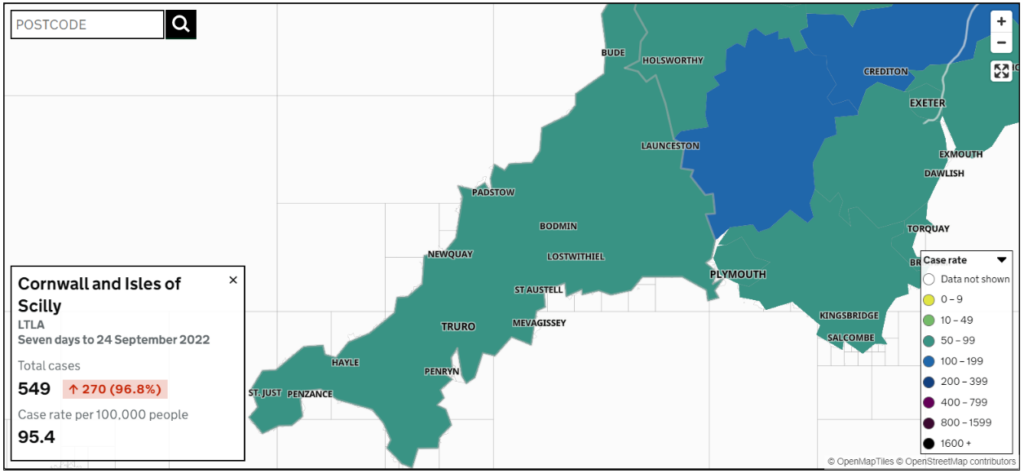 The weekly case rate per 100,000 population has almost double in one week across the county as a whole. Here in North(ish) Cornwall the current "hot spot" is Callington with a case rate of over 200. There is also a wide area with over 100 cases per 100,000: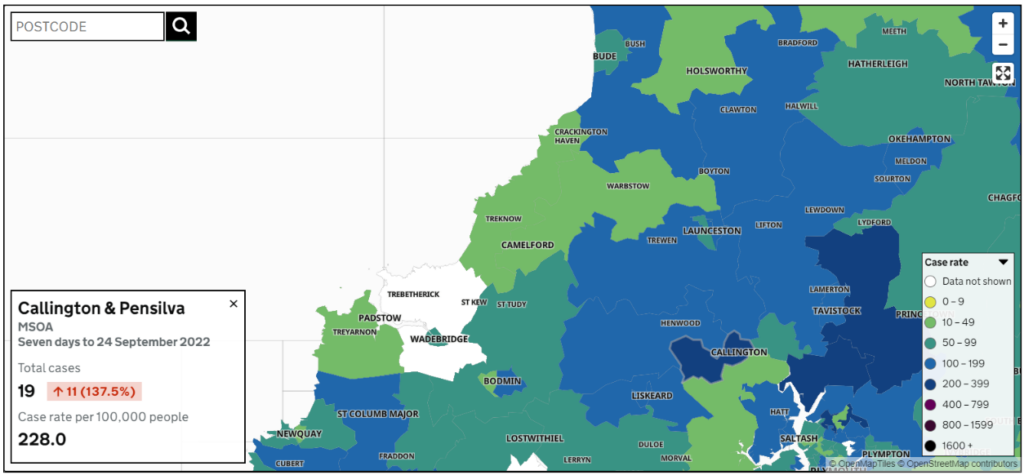 Things don't look quite so bad further west, but Camborne East is also in the over 200 club: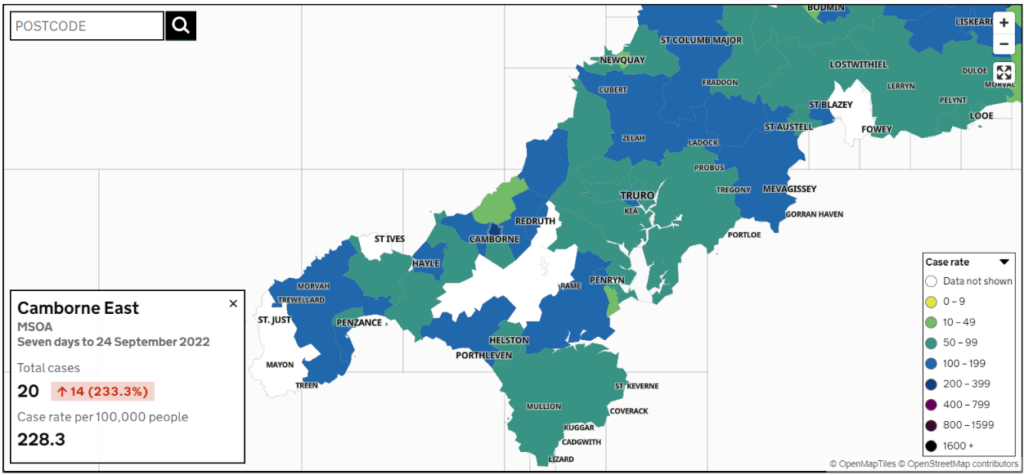 Here is the most surprising sets of graphs. Hospital admissions and in-patients suffering from Covid-19 for the Royal Cornwall Hospitals NHS Trust:


The data is incomplete for the past few days, but the most recent wave of Covid-19 in Kernow has already reached the level of the July peak.
Watch this space!